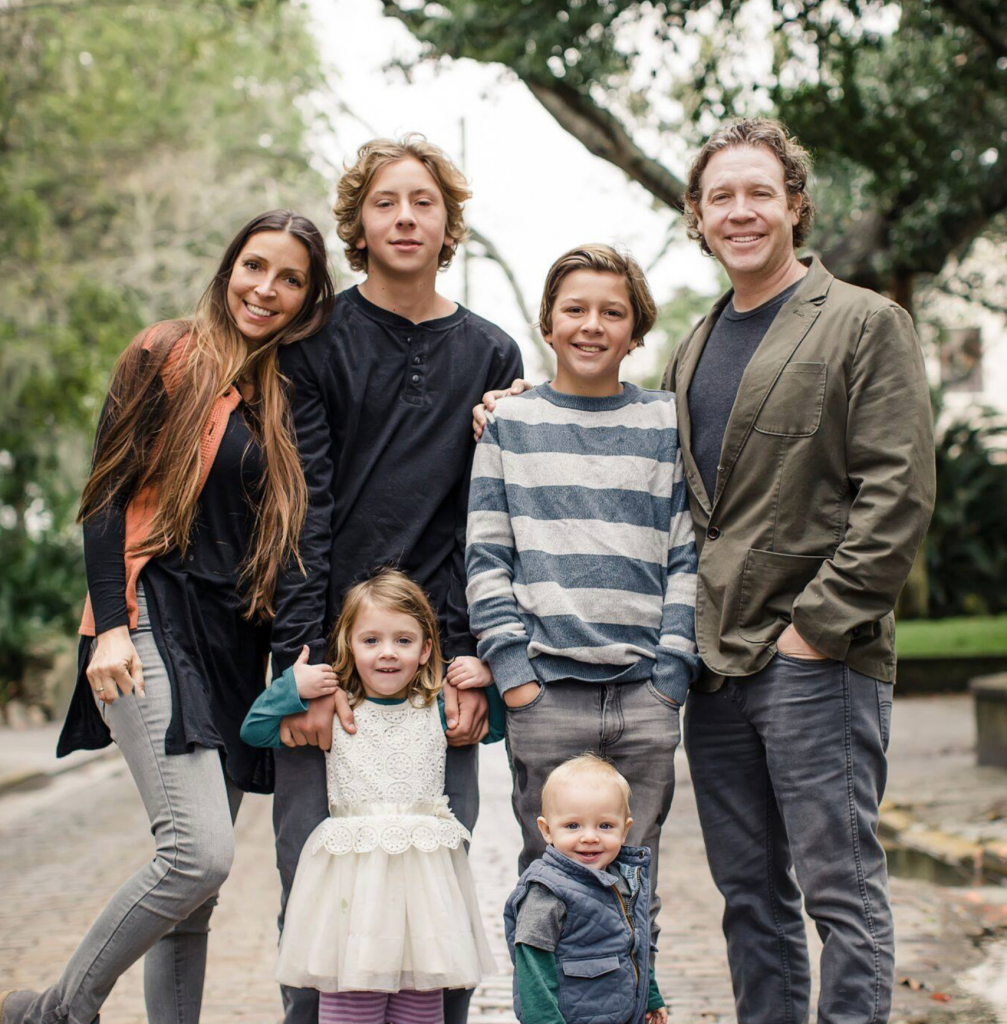 Jim Sheils came up with a nifty idea to combine a basic business concept with family life…and
The Family Board Meeting
was born. Jim joins the podcast to talk about how he uses business practices to enrich his relationships with his children, and teaches them essential life skills often overlooked in traditional education. Where to find Jim:
Shownotes
Mike Sudyk:
Jim Sheils is the author of The Family Board Meeting. Tell us what the concept of The Family Board Meeting is all about.
Jim Sheils:
It's a simple rhythm that I've added to my family life to make sure as I started with my business, that I stayed connected with my family. MS:
How did you reach that moment of getting started? JS:
– It got started before I had a family. I saw things in business that I didn't like to see. People I admired whose lives were in shambles. I said that's not going to be me.
– When I started my family – 2 biological and 2 adopted children – I wanted to be sure I was there for them.
– It all started with "quality time coupons"
– Now it's been around for 7 years. 3:00 MS:
Tell me about those moments you were asked to talk to people's kids. JS
– When I would speak on stage, I was in my mid 20s but I still looked very young. I was at that between age, and parents told me they wished their kids had been there to hear me talk.
– A few families would come visit me at a time, and we started doing retreats. Then I got hired by a few organizations to do workshops.
– People needed someway to connect at home, and that's what my focus became. MS:
Sometimes you hear if your life at home is good, work will be good too. JS:
– There are two dominating emotions within these people: guilt and depression.
– There is no possible way you can do your personal or professional best if you have an overbearing feeling of guilt and depression. 6:00 MS:
I was reading about this pizza Fridays concept… JS:
– My family strategy is this: my kids are my most important clients and investors. For big companies you have quarterly board meetings, so I said I'm going to start doing that with my kids.
– Every quarter I do that one-on-one with my kids.
– I wanted to make sure one of these a year we incorporated service and contribution.
– This teaches kids to appreciate what they have.
– Our last one-on-ones of the year, we do a service project—and now we do pizza parties for homeless people.
– It's a simple lesson in active service 10:00 MS:
You also do interesting things when it comes to home or alternative education… JS:
– Retreats started as a way for my family to meet likeminded families. We wanted have fun and deepen connections, we wanted to strengthen the relationship and teach important lessons not taught in school.
– When you're in that atmosphere with other families, you start to hear some common threads. We all had had tough times…we saw that our kids were also going to face hard times. We said we could help our kids out through them, or we could prepare them to be better prepared than we were…
– Three buckets seemed to help people the most: personal development, relationship skills, and financial intelligence. If the kids had a foundation in those three subjects, the odds of kids having personal and professional success were significantly higher.
– For my kids, we do all kinds of schooling, but I say once you hit sixth grade these are the most important subjects. 13:00 MS:
How do you teach those things? Why are those not taught? JS:
– I'm not a huge fan of formal education…there's a myth that schools will fill all the educational needs.
– Parents teaching these subjects will help strengthen the relationship with your kids.
– We teach this through games and books. 16:30 MS:
I'm guilty of just trying to achieve different milestones, but it's more about quality time. JS:
– yes, I always say to people baby steps. Start slow, with one thing that will introduce them to these startups.
– Growing up I didn't know about financial intelligence. I didn't know emotional intelligence was a thing. MS:
Would you say that parents you talk to have that belief that they need to outsource that education to someone else? Why? JS:
Being busy, the fear of not knowing how, and there's this myth that you're not qualified. That's just not true. 19:00 MS:
We homeschool our kids, and my wife does 99% of it. Sometimes when I'm teaching my 8-year-old grammar, I don't remember half the rules. but that's ok, there's some magic there for him where we're almost learning together. If I waited, I'd never actually start… JS:
You may not remember all the rules, but I guarantee you have more enthusiasm than anyone else would. And the kid might feel like they're teaching you. That's a really good thing. MS:
You don't have to homeschool to do a lot of this stuff, there's a lot of other teachable moments in everyday life… JS:
– Yes, true.
– We're using a hybrid model of schooling
– A lot of people feel like they're not allowed to ask for help.
– When I was growing up, if you were homeschooled you were either mega wealthy with a tutor, or you had something wrong or had been getting into trouble in class. 22:00 MS:
Anything else to add? JS
– those first 18 summers are so important. It gives you a motivation to think about the time.
Keywords
Fatherhood
The Family Board Meeting
one-on-one time
Active Service
Alternative schooling
Transcription below (typing errors may be present..)
[00:00:00] Mike: [00:00:00] Welcome to the two set dad podcast, where we interview dads to discuss their journeys of intentional fatherhood while doing work they care about and living a life of purpose. I'm your host, Mike, Sudyk
talking here with Jim shields. Who's author of the family board meeting. So thanks for being on the show, Jim.
JIm: [00:00:26] Oh, thanks for having me.
Mike: [00:00:27] Yeah. So maybe, if you get, you could give us, give the listeners a little background on what the family board meeting is. I just read the book and really liked the concept and have been, trying to incorporate it my family.
But, if you could give the little, like 32nd pitch,
JIm: [00:00:40] Yeah, the family board meeting is a simple strategy, or like I say, rhythm that I've added to my family life years ago to make sure as I was growing my businesses and career, I stay connected with my family, especially my kids, because I saw so many people climbing the ladder.
And losing family success. And I didn't want to see that [00:01:00] happen to me. So this one simple strategy is something that really keeps me grounded and connected with my children in an easy way and a fun way and in a sustainable way.
Mike: [00:01:11] So tell me about how you arrived at that. You said you saw, maybe you saw other, entrepreneurs not doing that, or what was the point and when you reached the pain or tell me the story about how it actually got started.
JIm: [00:01:25] Yeah, it really got started before I had a family, because I was invited back to wealth creation and personal development events. Yeah. Some business success. And I got to speak at a young age and I saw things behind the curtain. I didn't like to see people that I had idolized and looked up to they.
Yeah, they had big balance sheets, but. Their family lives would shambles. it was all a Mirage, divorce barely spoke to their family. Yeah. You'd see the one picture of them in The Bahamas on the beach, but it really was, it was all an act. And that really terrified me to be honest with you.
And I was like, that's not going to be me. so before I even had a family, I [00:02:00] started working with entrepreneur families, cause I looked like the young fun Oak and it was only side work and things. Hey, would you talk to my son and talk to my daughter? And that's how it started. but when I.
Started my own faith. And again, I actually have four children, two biological, two adopted. When I first married my wife and adopted my two older sons. I wanted to make sure as I was, I had two businesses. I was running that I. Really was in touch with them that I was there for them and I didn't let that happen.
So it really started with, with one year. At Christmas time, I gave him the things that originally the board failure warning strategy started as quality time coupons. One Christmas. I said, here are four coupons for each one and every quarter, they didn't know what that meant, but I said every 90 days.
You guys get to cash this in and the day is yours, anything you want to do, whatever you want to do. My phone's going off. I want to give you guys full focus. It's our big meeting. It's our important board meeting. and that's what it started as, and spiraled from there. I've been doing them for now eight years with my [00:03:00] family.
And I know it's been out in the public for about seven years. So there's, we have a pretty loyal following of thousands of families that do the simple strategy.
Mike: [00:03:08] that's awesome. That's amazing. tell me about, when you said you were brought in to these entrepreneurial, like older guys that were dads, and you said you were brought in to Hey, can you talk to my son?
You talked to my daughter. Was that in like a counseling, capacity or what
JIm: [00:03:22] was that? that was more of, it was speak on stage and I'd get off. And, I was cursed, not, I guess it's not bad now, when I was like 17, I looked like I was 11, I was just a late bloomer, young looking.
So I guess, in my mid twenties I still looked young. And so I was at that kind of in between age, between the age of the kids at home and the parents in the audience, who were attending this event, they'd come and they'd say, Man. I really wish my son or daughter had been here too, to hear the way you talk.
Cause I like to try to pride myself on having a very. Relaxed easy to understand speaking style. And they [00:04:00] said my kids would have really enjoyed that. They would like that. And so they just start to open up to me. It was the weirdest things. And I came this kind of intermediary mediary funnel where I'd say, have you talked to him about this?
If he'd done that. And then few families would come into Florida and come surfing with me and and then all of a sudden we said, Oh, why don't we host a few retreats? with a couple of families, we invited families, they showed up. yeah, I started to become this woman. So we did retreats for years.
And then I started getting hired by entrepreneurial organizations to speak and do workshops, but it all started with, just people tapping me on the shoulder when I got off stage. And you could see they were all there for the next business strategy and some of them needed it, others didn't what they needed was some way to connect, worked at home.
And that's what we're focused again.
Mike: [00:04:45] Yeah. And then have used, found that then they've obviously been more successful after they had that connection at home. that's what you hear a lot of times, like when your life is out of sync, And that's actually going to open up more business growth, they think it's not because they're [00:05:00] working so hard to unlock business growth, but they're sacrificing their family on the altar success.
JIm: [00:05:04] Yeah. the there's two dominating emotions. when I have interviewed people and worked with them about, if they're not feeling connected at home, they feel like they've dropped things by the wayside. I call them to do business stuff and there's two, no overriding emotions or guilt and depression.
And there is no possible way you can do your personal best or your professional best. If you have an overburdening feeling of guilt and depression, there's just no way. so you're absolutely right when people seem to get rhythm in better sync at home, the business side of things improve as well. Yeah.
Mike: [00:05:42] That's amazing. so tell me a little bit about,
JIm: [00:05:44] I
Mike: [00:05:45] was reading about this pizza Friday's concept. can you speak to that a little bit? I didn't hear, I see a lot of specifics on what it was about, but it sounds pretty cool.
JIm: [00:05:53] Yeah. my, as like my whole family we're being strategy is this, my kids are my most important clients and [00:06:00] investors and, for big companies every quarter, they have these quarterly board meetings, the company to.
Reunite the team and look ahead to the next 90 days, meet with their biggest investors. So I said, I'm going to start doing that with my kids. This was eight years ago. It was quality time coupons. So every quarter I'm with them. One-on-one without my phone fun activity of their choice and spending time at the end of the day to talk.
and as we started to do these quarterly board meetings, these important board meetings, Daddy daughter, day, father, Sunday, whatever you want to call, it doesn't matter. But our format is what a lot of people follow. I wanted to make sure one of these a year we incorporated service and contribution. I think it's one of the best ways to teach when I've interviewed lots of successful entrepreneurs.
I said, what's your biggest concern with your kids? And they said, I want them to appreciate what they have. I want them to appreciate what they have. And I haven't found a better way to do that than active participation in service and contribution. So I. With my oldest son, I had said to [00:07:00] him, okay. our last board meeting of the year around the holidays, we do something service oriented.
We've made packages for troops overseas. We've walked the dogs from a no kill shelter. And then we got an idea cause he feeds the homeless through his alternative school, once a month, Hey, why don't we buy some pizzas for the homeless guys around the holidays? and so we have this incredible story.
You can look up the YouTube video, I guess it said a lot of. A lot of views. And, we just had this incredible experience about buying pizzas and bringing them to the homeless people on our town square. And this one guy, and I had a, really touching conversation, and he had said, why are you doing this for us?
And I said, you're, it's the holidays. And you deserve to be loved. And it was just a very big exchange lesson and the talks my son and I had after this. And we had to circle back the car and. And come back and we had kept going and get more pizza. Cause it was just so exciting. we just saw everywhere.
There was when we left town, there was a homeless person walking with a smile on their face and a slice of pizza. [00:08:00] And there was just this simple lesson. Then when something, we still do not necessarily on a board, sometimes we'll say, let's go buy a few pizzas and drop them at the police station. Let's go buy a few pizzas.
And John at the fire station, let's go and give some to the homeless guys that are around there. So it's just active service. if I had just written a check for $110 and put it in a basket, that's good. But my son wouldn't have gotten the lesson is actually getting and bringing them, putting them out.
so with our family board main strategy, one of those meetings every year is service-based and that's just one example, pizza Friday, some things that I'm doing that I'm doing that. And, we get pictures of people handing out pizzas, to. either less fortunate people that are sometimes people who are serving the community like police officers or firemen or EMT people.
yeah, I'm not saying it's good for the gluten free world out there that wants it, but it's, it does put smiles on people's faces.
Mike: [00:08:51] That's great. That's awesome. So that was an extension of, the family board meetings sounds like,
JIm: [00:08:56] yeah, that all started on a board meeting with my oldest son.
[00:09:00] And then we'll still do that, on a board meeting sometimes. And also in, just on an odd Friday, I'll say let's go grab some pizzas and just go hand them out. So it's just a nice little connection point between us.
Mike: [00:09:10] That's cool. And,
JIm: [00:09:11] you also do, like
Mike: [00:09:13] you said, you mentioned it, Like retreats for families and stuff and doing like some gatherings.
I was reading on your website that you also do that. and also you're doing a lot of interesting things when it comes to like home education or just alternative education. I think you talk about, can you tell me a little bit about that and what your thinking on it or what, you guys have done or what you've seen with other families that you've worked with?
JIm: [00:09:34] Yeah, sure. the retreats always started as a way for my families to meet other like-minded families. and besides the goal of having fun and deepening connection, we wanted to strengthen the relationship and teach the important lessons, not taught in school. And have fun doing it. Those that was our whole premise of our workshops of our retreats.
And I had found as a beginner, I started to interview with lot families and work with them. when you're in an atmosphere of [00:10:00] just open conversation for two, three days at a time with other families, you start to hear some common threads. And what I found was a lot of the lessons, the ones that have really sort of me that helped me through some of my toughest times and other people's wasn't necessarily taught in school.
And we all had gone through common threads of tough times. And what we realized was, wow, our kids are going to go through these. We can either help them avoid something. Some of them, not all of them, but some of them, and, or we can let them at least be better prepared for these tough times than we were.
It's almost like an unfair advantage, for our kids. And so what I found was, interviewing him, looking at all the events that I paid for posts, formal education. There were three buckets that seem to keep getting thrown back to me. And these three buckets seem to help people. The most personally and professionally, and what I found was kids.
If they started to learn them at the age of 11 and 12, and then leave the house around 1819, if they know these three lessons, [00:11:00] they literally will have an unfair advantage over their peers for not only success in career, but success in their personal life, because we want both for our kids. It's not just about the alkalines and the career.
and those three subjects were personal development. Relationship skills and financial intelligence. And what I found is if there was a foundation in those three subjects, the odds of the kid having success personal and professionally or substantially higher. Substantially higher. And when we saw that our kids have, at least for me and others that I've worked with, when we see that our kids have a basic knowledge working knowledge in these three areas, it gives us more confidence that relaxes because we know how important subjects are, but again, they're never really.
The main focus. They're not definitely not core curriculum at school and usually not even enhancement curriculum. So I always say with my kids, look, we do all different brands of schooling, alternative education, unschooling, homeschooling, Montessori, Waldorf, private school. [00:12:00] Like we have four kids, so we're using different ones, but I always say, once you hit sixth grade, these are the three most important subjects.
Everything else comes around these because I don't know what you're going to be when you grow up. But no matter what it is. These three areas are going to help you personally and professionally. so it's just a little different take we have in our house on education.
Mike: [00:12:19] Yeah. So how do you go about teaching those things?
what are some of the things that
JIm: [00:12:22] like, how,
Mike: [00:12:23] why are those not taught is because parents don't know them themselves or, the school's not taking the onus to do it or.
JIm: [00:12:31] Yeah, I mean in school is, I'm not a huge fan of formal education. We can, I beat up on them either. there was this myth created years ago that we were supposed to just.
delegate all of our children's education needs out to the government or fancy institutions. That's just not true. I found that if parents are willing to get involved, at least in these three subjects, they're going to feel better about their kids' future. It's going to help them tremendously.
And it's going to strengthen the relationship learning and teaching these three subjects together is [00:13:00] unbelievable for the relationship. And I think that. Just no one ever gave the focus. There was just other, the other stuff are important, but there was never given the focus where the permission and I tell people, look, did these help you?
And most of the people that I've worked with are entrepreneurs, business owners, and I've done some in education. These areas I'm like stop asking for permission. If you think they're that important, just go it, give your kids that gift of teaching. And it's not, there's ways to start for the young kids.
It's just knowing those three subjects and then looking for teachable moments where you're going to have a conversation with them. they start to get a little older. We used games like board games and fun games. I teach financial intelligence, relationship skills, conflict resolution, personal development.
There's games out there that can teach you that. And then one of the basic ways that we do it is, every 90 days, I read a book with my two older teens, one that's based in those subjects, personal development, relationship skills or financial [00:14:00] intelligence, but we read it slowly, maybe a chapter a week and we discuss it's.
I call it a deep dive, slow digest. I don't want them to just say, Hey, read this 150 page book. Write a one page summary and I'll pay a hundred bucks. and I hear people do that and that's okay. But they don't really get the less, they're just trying to get through it then to write some words on a paper and move through.
But if you actually take the time to read it yourself with them, have a sit down every week to discuss the main points, the lessons you would pull out applying to real situations in life right now, or in the past. It's really powerful. and I asked him like, how many of you have sat and slowly read and discussed a book like this with your teams in any of these subjects?
The answer is no. Now a lot of people, who are faith based, obviously the Bible and that's great, but real pinpoint once of, Stephen Covey or Dale Carnegie, or, the richest man in Babylon, these one where it's very pinpointed on trying to, Deepening a person's knowledge, at least three subjects.
And usually the answers, gosh, I never [00:15:00] have. And I'm telling you, once you do the first book together, it's addictive not to keep going. And again, that's I said I set low bars. That's one of my most important things, because if not, I'm going to fail because I'm add, and I run two businesses, I can cram 12 to 15 pages a week if I need to.
That's not a problem. And, but I still had a great meeting and every 90 days I know we're going to completely have really saturated ourselves into a good reading that I know that's going to help them today and in the future.
Mike: [00:15:28] Yeah, no, that's great stuff. I think I'm guilty of that even trying to just press through things, you just want to get through or achieve these different milestones.
And it's no, it's all about taking that quality time.
JIm: [00:15:39] Yeah, it's a big difference. So yeah, just, I always say with people, baby steps, if you look at these and you like them, our three buckets start slow, start with one book, start with one book, start with one board game.
The rich dad company is do that cashflow game. And that's a great one cash flow for kids. One thing that can start to at least even [00:16:00] introduce them, like I didn't even know there was such a thing as financial intelligence. I didn't grow up with that in my house. I wasn't taught how to handle money or how it works.
So I ain't even know it existed. I didn't know that emotional intelligence existed as a team. Those two words never went together. Emotion and intelligence. just the awareness to your kids opens up a whole new opportunity.
Mike: [00:16:21] And do you think dads or parents that you talk to would say that they would you say that they've just succumb to the belief that they have to outsource that education to someone else?
why are they not doing it? Are they just, they are so busy and they feel like. They're working to support the family. And that's, they're doing that, or what do you feel like the biggest barrier is to some of this stuff
JIm: [00:16:43] being busy is one of them, the fear of not knowing how, and then also this, this myth that's been battered in is you're not qualified cause you don't have a teaching certificate or this or that.
It's this belief that we're not qualified. Which is just a [00:17:00] total farce. so those are really the three too busy, not sure how, but okay. Maybe one is why not qualified to teach my kid these subjects. And that's just not true because we all know we've had teachers who were not certainly the, the most proficient subject, but the way that they talk with such care and involvement and.
And that's how you're probably going to be with your kids a little more so than a teacher who might be over this whole thing and getting a tenure and that, and so I always said, you're more qualified than you give yourself.
Mike: [00:17:34] Yeah. So we homeschool our four kids and my wife does 99% of it. Obviously she stays at home, but I've found that sometimes I succumb to that and feel like, Oh, she's doing this, she's doing the lessons.
But it's a hugely rewarding to sit down with your kids. Like when my kids and walk them through something, even something like grammar where like teaching my eight year old, like grammar and he's I don't remember half the rules, but that's okay. I feel like there's some magic [00:18:00] there to even to him be like, I'll be like, I don't really remember that.
Let's like, let's look that up. Or this is why this does this. We're almost like learning together even though, I know that, and I think that to me, I think is really special. But it's come at it if I would have waited or if you just say, Oh, I don't feel like I can do this, or I don't feel comfortable.
I have to have this all planned out. Then you'd never actually start, when magic is in kind of the figuring it out as you
JIm: [00:18:21] go well, and it's good that you and your wife are splitting that up. But again, Yeah. you're describing you feel Oh, but I don't remember all the rules. Exactly. I don't see that.
But I guarantee you had probably more enthusiasm than most people, that would have taught your kids. and they like to feel like they might be teaching you something I love when we read a book and my kids feel like they're teaching me something and they do, man. There's some of my best teachers were there.
they give me an observation where I'm like, wow, I never thought of that. and. I think you and your wife will see your wife and be like, Holy cow, Michael, did you hear what he just said? one of your kids. So that's a pretty cool thing as well. If you're getting the chance to teach you, that's not a bad thing.
[00:19:00] That's actually a really, that's a really good thing.
Mike: [00:19:02] Yeah. Yeah. The interesting thing with homeschool and talking to our family members and our friends about it is
JIm: [00:19:08] it's actually,
Mike: [00:19:09] you don't have to homeschool to do a lot of this stuff. And that's where I'm hearing you say, it's it's all about the teachable moments.
And whether it's a family board meeting you're doing, or just when you're just walking down the path, and you're talking about something and asking them how they're doing it. Something, it's that's where it really happens. all the that's where the real education happens, I believe.
JIm: [00:19:28] Yeah, exactly. For sure. For sure. And that's been proven, so it's yeah, I applaud you on the home on homeschool journey. we've, we're using a hybrid of it. but a lot of people think that. Oh, my gosh, if I homeschooled, they're not going to be socialized. They're not going to have this it's. My life is over.
I'm not allowed to ask for help. I just, there's so many myths around homeschooling. It's incredible. Cause frankly, just, I'm 45. if you were homeschooled you're either like mega wealthy or something and traveling the [00:20:00] world with a private tutor or. there was something wrong with you.
You were like biting the other kids in class or something like that, and it's, but it's just a different world nowadays. and there's lots of ways for our kids to reach that young adulthood, really a school is there to help our kids reach the young adulthood. And to think that we only have to go the traditional route of public or private school.
it's just not true anymore.
Mike: [00:20:22] Yeah. What's great. Thank you so much, Jim, for being on the show. I appreciate it. Is there anything else you wanted to add in all of that?
JIm: [00:20:31] No, I are one saying again, the name of our company is 18 summers. So I always say that, a mentor of mine taught me years ago, those first 18 summers with your kids or when you will have the most amount of time with them.
So take advantage of they'll still be your kids after 18 summers, of course, but that time was just magic. And he said that to me, 75 years old, successful businessman, family, man, he said just grabbed us, run with them, and some of my Canadian friends say, Oh, we only have 18 winters because they really like the winters.
Well, whatever it [00:21:00] is, do that math, you might say, I have a nine year old and go, wait a minute. I have a nine road. I only have nine summers left. It gets you a positive motivation. Yeah. To really make the most of the time. and I think if you'll intentionally set up these rhythms and little things, like our family, our main strategy, it's going to slow time down.
I think it's going to give you the feeling like, I'm more involved. I am close to them, for what it's worth, you got 18 summers, so make them up.
Mike: [00:21:25] That's awesome. thank you. I'll link everything up in the show notes. dot com and some of the other things that you talked about, so the listeners can check it out.
So thanks so much, Jim, for being on. I appreciate it.
JIm: [00:21:36] Thanks, Mike, lots of good ones. Yup.
Mike: [00:21:38] You can find it more about us and sign up to receive updates@twocentdad.com. If you liked what you heard or just want to say hi, you can shoot me an email at Mike at dot com. Please leave a review on iTunes. If you like the show, it helps us to get the word out to the most people possible.
The show is made possible through the support of ECE group international building software teams [00:22:00] since 1999.