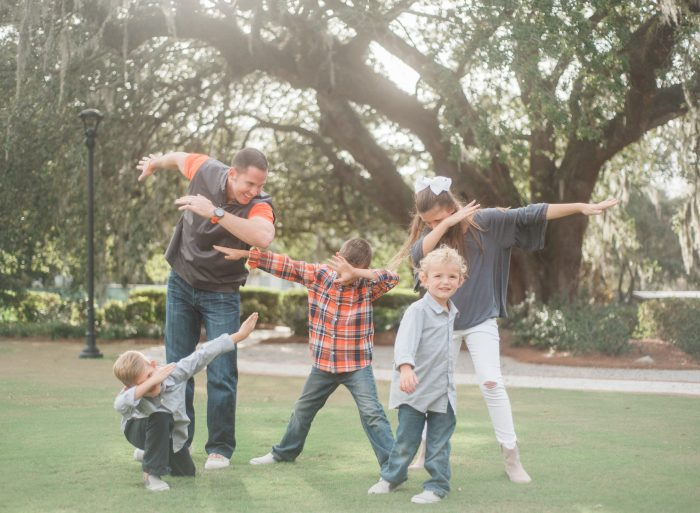 I been a dad for 12 years or have I been a dad one year at a time, 12 times, right?-Justin Batt
As a father of four children with an entrepreneurial wife who worked almost every Saturday, Justin quickly found himself alone, overwhelmed and outnumbered on Saturdays. He woke up one Saturday ready to make a change and armed with a game plan to engage my children in an intentional way. A trampoline, a GoPro, and 500 water balloons resulted in an incredible day with my children and he knew he was on to something special. His kids began asking on Wednesday, "Hey Dad, what's the plan for Saturday?". That has morphed into a book, a worldwide movement, and multiple non-profit efforts.
Where can you find Justin:
Transcription below (Typo's may be present…):
[00:00:00] 
Justin: 
[00:00:00] this individual or independent drive that we've been given to, to be the man and to be the driver and to operate in that business capacity, which is easy for most guys.And then, you know, we'd rather go be a workaholic and work more. Cause we know what that looks like. We know what the end result is. You don't always get that with your kids. And frankly, kids are also probably some of the most invalidating people that have ever existed. 
Mike: 
[00:00:23] Have you ever experienced the daddy hangover on a Saturday?  that's a term coined by Justin batt, who was a guest on the podcast today. He is the founder of daddy Saturday, which is a foundation and it's a platform and it's a book and it's all around how to get dads more engaged, specifically devoting time on Saturday. To be a more engaged dad and to avoid the dad hangover. Which he would say is being physically present but not mentally present and being checked out so [00:01:00] he had some great wisdom to share on the podcast so let's jump into the interview with justin
 Today on the podcast, we have Justin batt, who is the founder of daddy Saturday, which is a foundation that has been around since 2007, with the goal of impacting 10 million fathers in the next 10 years.And I'm Hey Justin, thanks for being on the show. 
Justin: 
[00:01:22] Mike. I'm so glad to be here. Thanks for having me. And, um, I got to say a bit of a clarifying statement. Yeah. So I've been a dad since 2007. The foundation started about a year and a half ago, but I always backdated to that because that's the date that I officially became a dad and entered this journey of fatherhood.
Mike: 
[00:01:41] That's awesome, man. No, I think that's, that's a, that's an appropriate backdating. I mean, that's when that's, when you actually started the true foundation, which is, is it your kids? Right. 
Justin: 
[00:01:50] They're founded as a right. 
Mike: 
[00:01:53] Yeah. So tell, tell us a little bit about, um, the whole foundation and what you got going on.I just love, um, [00:02:00] the content you put out and I know that you you're also the author of a book. Um, so tell me a little about the foundation, how it came. He came to be. 
Justin: 
[00:02:07] Yeah, I'll give you the, the Genesis of daddy Saturday. So essentially about 13 years ago, my wife decided to leave teaching and go into being an entrepreneur.I supported her a hundred percent of the journey. I was a young corporate executive at the time in the pharma industry. And so we decided to embark and then entrepreneur journey. At the same time we had our daughter, our first child. And so my wife found herself being a entrepreneur, owning a couture bridal boutique.And that meant she worked, you know, most weekends every Saturday, all day. So I was at home with our daughter at the time, and then we added three more boys to the mix one every two years. So very quickly, I'm a setting that corporate ladder I'm home with all four kids all day on Saturday, eight to 10 hours, just dad and the kids and quickly found myself overwhelmed, overcome often feeling very inadequate and having what I call the dad [00:03:00] hangover on a lot of those Saturdays.I mean, I was there with my kids physically. Um, but I wasn't always emotionally present. I wasn't giving my all in those days. And I realized that I'd been given it gift of spending that Saturday with my kids. So I started to just change everything and, and became intentional and engaged and was planning our days ahead of time.And I saw this dramatic transition in my kids, in our relationship and in those Epic moments we were having in those Saturdays together. And they became a real blessing for me and for our family and for even my wife and I, and our relationship. And I'll never forget the Saturday or the Wednesday. My kids would often ask midweek, dad, what are we doing for dad on Saturday?And my middle son, Mason goes one set one Wednesday, dad, what are we doing for daddy Saturday? And I was like, Oh my gosh, son, you just named it. That's what we're calling this thing. And fast forward a couple of years later, I was asked to give a TEDx on the fatherlessness epidemic. And I learned all about the epidemic that's in our country.I mean, I knew a little bit about it. I recognize it in my own experience in my own life. [00:04:00] And realized that man, there's a lot of kids out there that don't have a biological dad in the home, but also many more kids that have a dad who is physically present, but he's emotionally absent. Like I was for a period of time.So I decided to write the book, launch the plan form and embrace this calling that I've been given to take what I learned in my own family. And to help other dads do the same thing. And so it's gone from my backyard, with my four kids on those Saturdays to now becoming an international platform. We have a for profit and a nonprofit, the nonprofits designed to really hit that goal of 10 million dad's impacted in 10 years.And then fatherlessness. And we do that through, um, four populations that we primarily serve the national guard, the incarcerated opportunities zones, and first responders. And then we have an international component to it and we've got daddy Saturday, Kenya established, and we've got a home office over there and a radio program that goes all over Kenya, helping dads be better dads and connecting them to the father.Uh, all over Kenya. So that's the thing where we are. And on the, for profit side, I know we got some cool things that we [00:05:00] can talk about here for your audience around the texts, the ways that we're engaging dads through some unique platforms and programs. 
Mike: 
[00:05:08] That's cool, man. No, that's, that's an awesome story.The, the term, uh, dad hangover that, that, that's, that's an interesting one. I'm sure you, you face a lot of, you know, dads that you're talking with through the foundation and that interact with your content. I'm sure they're there at that state, right? Whenever they. That they either they seek you out or they come to a talk or something.Um, unpack that a little bit because I'm sure people listening probably are dealing with that on some level or have dealt with it recently. So just unpack that a little bit and kind of how the foundation or how some of these tools help address some of that. 
Justin: 
[00:05:44] Yeah. Well, I found myself as a young father, right?Trying to make that corporate ladder climb. And whether you're climbing the corporate ladder, you're an entrepreneur or whatever your case is. I think we all struggle as men with a pride ego and balancing that role of being the provider [00:06:00] and that provider gene is embedded deeply within us. Oftentimes it's the example we were given as fathers from our own father or our grandparents are the male figures that were in our life.And so that, that deep rooted vein of being the provider is, is often what's driving us. And I found myself having a hard time balancing that tension between work and home. And I think one of the first and most important things I'd tell your audience that I came to the conclusion of is that one you don't ever achieve balance between work and home.Um, it's not about achieving balance. It's about managing the tension. The tension is always going to exist. And so once you acknowledge that the tension is always going to be your role is not to eliminate it or to try and achieve balance, try and manage that tension effectively. Because there's going to be points where your career may take precedent and that's okay.Right. You got a big project, you got a big deal and you're starting a new company. There's going to be times where you have to invest more on that side. That the goal is that you don't let that overtake you and you don't make the excuses where that becomes the norm. And it becomes a longterm process where you miss out at home.Vice versa. Right? You can only be at home. You can only be playing with your [00:07:00] kids. Otherwise you don't work and you don't make income and can't provide it with your family. So it's about managing that tension. And the way that I found that the best way to manage that tension is by, um, integrating your life into your work.It's a lot of it. It's bringing those purposes home from work that we focus on those tools, mission, vision, value, goal setting that we do so well in the corporate space or as an entrepreneur, but we don't often do in the home. So, you know, if you're, if you're a tech startup, you've got all those things nailed down in your business life, but how often do you, those things in your home life as well?So it's sitting down with your family and it's planning out what it was, our family mission, our vision, our values, what are our goals for ourselves as a, as a couple, if you're married for your, for your kids. And another tip there is we set our goals as a couple or individual goals at the beginning of the calendar year.Our kids set their goals the beginning of the school year, because for kids. Right. That's that's their official year, oftentimes is the school year when they have the most going on. So that's one thing, integrating those two things together. The other piece of that [00:08:00] is on a more micro level is planning everything on paper, on purpose.So we partnered with Michael Hyatt and he's got the full focus planner, which is a phenomenal planner. So over a hundred thousand copies of this planner, and we have the dad boss planner, which goes along with our dad boss digital course. And the point of the planner is that you write your big three down every day.You plan on paper, on purpose. What's your biggest goals and initiatives are for that day, but that's not just at work. You also plan what you need to do as a husband, as a father. And you put that on your calendar. So if you've got a date night scheduled with your daughter, if you've got a kid's ball game, you got to go to.That sits on your calendar and it sits there with the same level of importance as the biggest corporate meeting that you would ever have. Right. You gotta be on time when you're there. You're totally engaged. Your phone's put away and you're in the moment you're present and whatever it is you're doing.So those are two, the things that I've found that are really key. And then the, I don't think I'll mention around that process of managing the tension is that you [00:09:00] can't expect yourself to show up. During the, during the week, and especially on the weekends, if you're burning the candle at both ends and you're giving everything you have to the office, you're not allowing yourself to maintain anything left for the home.You can't just give breadcrumbs to your family and expect to be an intentional engaged dad. So it's about getting up early. It's about spending time. I do a devotional every morning, spend time in God's word. It's important to me connecting spiritually it's, um, exercising and getting that in, keeping your body and, um, eating healthy as well.And then maintaining your sleep habits. Sounds like there, those are really tactical things, but I'll tell you, um, there's super important as you view your role as a dad and achieving peak performance, not just at work. But at home. And if you do those three things, well, then that'll help equal out that tension allow you to manage it successfully.
Mike: 
[00:09:53] Yeah, man, you said a lot there there's a lot to respond to Joseph the, um, but I cannot [00:10:00] agree more with that last point in, in the sense of taking care of your sleep habits, your diet, you know, your, your fitness and to not feel like that's being selfish at all. Yes. You can take it to an unhealthy selfish level.Um, if you're training for an iron man, you know, every year and you have to train, you know, But that's so few people that there's so much bang for the buck in getting those things right. That carries over into your, your, your role as a, as a husband and a father that I can not, I can not agree with that more.And I found that my own life. So, um, I agree. The question I have for you is, um, you mentioned that this idea of planning intentionally, um, for like annual quarterly goals, you know,  all that sort of thing. And, and, um, I agree with that. And I, one of the things though, that is interesting, that, and why I started this podcast is that there was this discrepancy of these high-performers myself being included, where I had this intentionality with [00:11:00] my business and things I was doing for work, but not in the home.And I'm sure people that you've talked to have dealt with that too. Right. And what, what do you, why do you think that is? Why, why do you think these, you know, smart people that are successful. Don't approach their role as a father with the intentionality. Is it, is it because it wasn't modeled to them that way, or they think that they can just get by on that or whatever, or their, you know, natural talent, they can just show up and they don't have to do that.Or, you know, unpack that a little bit. 
Justin: 
[00:11:32] So that's such a great question. The deep question, and yes, I agree with you. I think part of it is what was modeled for them. You know, a principal of daddy, Saturdays at far more is caught than taught. So in life, much of what we, we implement and what we learn is by what we observe and others, especially those influential people in our lives.So it was either use either caught or taught by the person that was there. It wasn't there and that father role. And if you think about. Society as it's changed in the role of the father, right? Again, [00:12:00] it was based a lot on that provider mentality that especially if we're coming out of the great depression and the areas that followed right, we had, we had Wars, we had recessions, we had all sorts of different things that happened and that's evolved over time.I think it's dramatically changed and we're seeing a return to the father, to the home. We're seeing more engagement, we're seeing more intentionality, but a lot of that is by choice, not by, because it was learned or by caught from the father above them. That's one piece of it. I think more importantly, it's that if I'm being really honest and I look back at my life and some of the challenges that I had early on as a dad and some of my bigger struggles and even some of the struggles I have today.I don't think it's this, this innate principle. I don't think it's this. Um, it's an intentional choice. I think it's something that we are just wired as men because it's hard. And we, we get, it's easy to go to go out and hunt and kill. We were, we were hardwired that way so I can go work. And I know what that looks [00:13:00] like.I know what that is. And I think part of it is the variability of what happens when you come home with your kids. Like, I know, I know how to go close a business deal. I know, I know how to go speak on a stage. I can go do that stuff with my eyes closed all day long. That's what I was trained in born to do.But when I come home with my kids and then they asked me for the 18th time, if they can, um, play some app on their mom's phone or notice I said, mom's phone, not my phone, or they can. You know, um, ask me to go do something that frankly at that moment again, and being fully vulnerable that I probably just don't want to do, or I'm really tired.And it's like, it's not my thing. Like that that's complex and is as easy as it sounds. It's challenging. And I think that that's part of that management is you got to go from one to the other, and it's hard to turn that off. It's like the split screen we have here, you sit there and you exist in that work life.And then you got to come home. Or if you are working at home now, like most of us are, you gotta [00:14:00] quickly flip and now reintegrate into this time. And that's a hard. Flipped to make. So I think part of it is, um, it's, it's learned behavior it's, what's caught from above us, but it's also this, this individual or independent drive that we've been given to, to be the man and to be the driver and to operate in that business capacity, which is easy for most guys.And then, you know, we'd rather go be a workaholic and work more. Cause we know what that looks like. We know what the end result is. You don't always get that with your kids. And frankly, kids are also probably some of the most invalidating people that have ever existed. Right. They're like invalidating little Creekers and they're really good about that.I mean, my kids are some of the most and thankful kids I know outside of the home. Right. They tell every they have the best manners ever. My kids. Always get rewarded for their manners and saying, thank you. And just being great kids, but at home it's like, they just lose their minds and they forget all of that.[00:15:00] And very rarely do they ever say to mom or dad, you know, thank you. Or that means so much. So I think the other part of it is also that that, uh, pleasure and reward. Um, scenario where you just often don't. I feel that as a parent where I can go close a business deal, I can, I can go make money. I can go have an economic transaction or a, an interaction on the business side where I get that immediate gratification, that reward and that Dawson doesn't happen at home.Those are a couple of things that I've discovered in terms of the reasons why, and that's not just, just in talking. I mean, that's a lot of, I've interviewed hundreds. Yeah. Dad's at this point and I think that's also come out in those conversations. 
Mike: 
[00:15:39] Yeah. I mean, I would agree with you on that. I think the, the wild West aspect of being a dad, as it relates to the clarity of a corporate, you know, objectives and corporate, you know, you know, goals or quotas you have to meet for if a sales position it's like, that's, I mean, that's hard in some regard, but it's like, I know how to do that.Right. It's like, I know I put in, I put in the [00:16:00] work, I there's a, there's a roadmap. It's like it's uncharted territory. And with kids, it's like, it's new every year. It's not like, you know, the kids get older, they change, they, then you're dealing with other complex issues and it's like, Oh wait, just want to have this figured out.It's going to change into something else. You know? So yeah, I can totally relate to that. Um, 
Justin: 
[00:16:19] question so powerful though, Mike is because it goes back to this, this comment I heard a while ago and it was super impactful for me. And it was my daughter's 12, about to be 13. So we'll use 12 and it's it's have I been, been a dad for 12 years or have I been, uh, a dad one year at a time, 12 times, right?Which one? Which one have I been? And when I think about that, when we look at our careers, oftentimes it's, you know, I've been in the workforce for 10, 15, 17, 18 years, whatever that is, right. 30 years you look at parenting, it's like, what you just said. We start over almost every year. And it's like, are we progressing [00:17:00] or are we regressing or, or just like kind of maintaining the status quo because we're not intentional about growing in that capacity, the same way we're intentional about growing in other areas of our life, like our, our careers.And so I think that's the other piece of it is you need to look at that paradigm and say, how much am I investing in home? How much am I investing in being a. A more intentional, more engaged, um, father, and that's where it starts and ends for me. And that's why intentionality is so critical because you need to look at that scale and say, how much am I investing over here versus how much am I investing here?And guess what? It's like, anything else where you invest is where you get the return. And so if you're investing all of your time, effort, and energy at work, you're going to get a big return there, but you're also not going to get the return that you may want or need at home. 
Mike: 
[00:17:44] Yeah. And then, but even related to that, if you're, if you're going to go, I'll double down on that.And in some regard to say, The home is the foundation. So your foundation starts to crumble. If you build too much of the building on top of it, right? If that's, if you want to use [00:18:00] that analogy, it's like that, you're going to be, yeah, your skyscrapers are really great, but you can only get so far. If you start, if you ignore the foundation, it's like, you start to have like water leaks, you know, like also it starts to have to be half washed out and then, then you're going to be screwed and you've got this nice looking building.But it's all going to come crumbling down. 
Justin: 
[00:18:17] Yeah. The moment your kid, the moment your kid is depressed and is on antidepressants and contemplating suicide or addicted to opioids or, um, teenage pregnancy, or, I mean, you know, these are things that parents don't want to think about, but they're harsh realities of what happens when you don't have an engaged parent in the home.And especially today with technology and again, this being a technology focused. Group that we're speaking to. Right. I mean, there are so many doorways, so many gateways for kids to just get completely off track in a, moment's notice through technology today and through social media and all that's out there that, you know, as a parent, if you're not building a strong foundation there, then you know, how do you go be successful in the other side of that, when one of those things happens at home, [00:19:00] right?It wrecks your entire world the night, absolutely ineffective at both. Whereas if had you just built a strong foundation yeah. Home first in your marriage and your family. Then it allows you to go out and kill it and you don't have to keep your eye on the back door all the time. You can go out and take care of the front door.
Mike: 
[00:19:16] Yeah. Yeah, exactly. And I think it's, you, you kind of said earlier about the tension and you're never going to balance it and you can't spend all the time with your family and that grow your business. But I would say. That I'm not saying your size, but it's like, there's very few that have done it that way.There's a lot more that have done it the other way, where they spend way too much time on their business. Right. And that's important to acknowledge, to say, okay, um, I have a prediction disposition to go spend a lot of more time on my business. I have a predisposition to just show up and not be mentally present.So I need to err on the side of being very intentional to be, to be pressed. And it's like, it's easy. See, man, it's easy not to be mentally. Present. It's easy to just coast, you [00:20:00] know? And I mean, I have this thing of like, it starts early with when you're, when you have newborns and you're, and, and you have a newborn baby and you can't really do anything about that.Newborn baby, you can change a diaper. If you, if your wife breastfeeds like the hubris, you are basically. Useless in a lot of ways, because that's the way it's designed. I mean, that's just the way it's designed and that's, I think you and I share values and beliefs in that system and in, in men and women, but it's like, but you don't let that cause you to go get on a track of complacency and a track of just always being the sidelined, you know, role.It's like, you gotta, you gotta figure out how you stay engaged, how you bond with this child and all of that. It's like, Yeah, your wife's a lot better at the nurturing thing too, for the most part, you know, but that's not what you're trying to be. You're not trying to be a better nurturer than her. You have a different role.So don't just coast because of that, you know, and I think it's really important. [00:21:00] It's hard to fix that later. It just gets harder and harder, I believe. But I think that's important for young, young dads, especially that, and that's, that's a struggle for some more, for more so for some than others, but. Very early on, like acknowledging that and being intentional, but it all comes back to what you're saying.And that's why I like your message. It's like, you need to approach it with the same tenacity and seriousness that you do with some other things. And maybe you're, maybe you're in the business world. That's one thing. Or maybe you're a professional athlete. They would approach that in a very serious manner.You know, you're going to, you're in a practice certain number days a week, you're going to track your workouts. You're going to be really serious, but you have to have that same tenacity at home too, you know, and it starts early. 
Justin: 
[00:21:41] It does. And you know, it shifts when your kids are really young. You're in more of the, the teaching mode where it's like, or the training mode rather where it's like the don't touch that that's hot.Right. That's your biggest responsibility is don't kill yourself when you're so young. Cause they don't know what they don't know. But then when they get older [00:22:00] and I moved more into the, the teaching mode where you want to say, don't touch it, that's hot. It's like, don't touch it. That's hot. And here's why here's, it impacts your life later on down the road.Right? And, and so there, you have to be able to shift as a father and there are different stages and growth points of, of being a father. It's a big part of our message. When we talk about this role of being the guide, rather than the hero is the dad. I think that fits really well into what we're talking about because so many dads, they feel like they have to be the hero to their kids.And maybe that's because they're trying to make up for an insufficiency or inadequacy that they had with their own dad, or they were a results driven. So they want to live vicariously through their kids and they want to be everything and all thanks to their kids. I don't know. There's a lot of reasons why dads try to play that role, but in my eyes, it's completely the wrong role.And there are so many books and movies and, and things out there about data as hero. And to me, it's a myth and it's, it's the completely wrong path to take. It may sell copies of a book and may feel good and be inspirational, [00:23:00] but the kids should be the hero of their own story. And here's why if you look at the generation of millennials and the younger populations coming up, so many of them had their parents do everything for them.They never let them fail and fall down. And have that experience in their youth because, you know, failure at age way different than failure at 28, those micro insignificant failures when they're young are, when they should learn and understand how to deal with failure so that when they get older, they know that process, they know how to fail forward and fail faster.The problem is they were never allowed to experience that or their parents took it away from them or did things for them. So now they get into adulthood and becomes catastrophic. It's their first, big failure of their life. They didn't have no mechanism of dealing with it. And so when dad plays the role of the guide, he allows them to succeed or fail on their own and serves alongside of them in that process so that they learn through those circumstances.And then when they get older, guess what they know how to deal with it. The other big piece of that is it lowers the dad's ego. It lowers the dad's pride, and it allows him to bring other [00:24:00] men into their kids' lives that have expertise or skills, or can provide experiences that they can't provide because they don't have those things.And that was one of the biggest game changers for me as a dad is when I said, you know what? I don't have to be all things to my kids. And that that's part of the frustration and why dads don't engage sometimes is because there's this like innate fear of maybe they didn't grow up playing sports and other kid wants to play sports.And they're like, I don't know how to do that. Therefore, I am, I'm going to avoid it. Instead of saying, Hey, you know what, son, I don't know how to do. I don't know how to throw a curve ball. I didn't play baseball growing up. It's not something I ever learned. But guess what? I know a dad that does rhino, another guy that does you bring that into your kids' life.Now they get that experience. You ended up being the hero because you brought them in. It's like the whole thing just works perfectly in that scenario. And the more you can do that, the more your kids get exposed to the fact that they also need to build their lives around other people and ask for help and reach out for additional resources.And it puts you in the proper place as their guide [00:25:00] along the 
Mike: 
[00:25:00] way. Yeah, I think that's, I think it's a great way to think about it. Really. A lot of it boils down to ego. Like if you want to be that hero, you want to do those things because you want to be viewed as the hero. That large part is probably your ego talking and, and you need to get.Out of the way, you know, like that needs to get out of the way. It's like, there's just such a clear analogy with like senior leadership in a company it's kind of like a really bad CEO is like thumbs down all the time. They don't hire anyone smarter than them, you know, it's like, but a good one is like, okay, I don't, I don't, I'm not the hero here.I don't know this. I shouldn't be this, you know, I should be hiring people smarter than me and I should just let them, I should, I should help them in any way that I can with the resources and guidance or whatever, but ultimately, cause they have to thrive. And I'm only gonna be as good company is only gonna be as good as this person is successful.And that's where it's like, why is there a disconnect there of like that lesson versus in the boardroom as opposed to the bedroom or, you 
Justin: 
[00:25:57] know, the kitchen. Exactly. Right. [00:26:00] My kids are going to be successful and it's not going to be because of me individually. Right. It's my wife and I together as a team.And it's the village of people that we are going to surround them with, that are going to help them be well rounded and have those experiences. And sometimes it takes somebody else saying something, you know them. So they hear it. Right? I mean, how many times can you remember growing up Mike and your audience?Probably the same thing your parents may have. I told you something seven, 777,000 times, and one person, a coach, a teacher, someone else says it to you one time and all of a sudden you took it for exactly how your parents meant it. You just had to hear it from someone else in a different way. And so that's the other value in that, right?Is that your kids, they will grow and they will progress so much faster if you give them that experience. And then. The other thing that that's so critical about that. And I love your analogy with the corporate space. Is that when you think about it, right, you're you are your kid's hero and you always will be that's the cool part about being a dad, but there are so many kids that don't have a dad [00:27:00] and that they need to learn.I learned that skill set of seeking outside of themselves for other males influenced that can play those roles in their life because there's 25 million kids in America today that don't have a biological dad in their home. So there are so many kids. And so, you know, the audience that's listening, I would ask them to also step up and say, I'm not only gonna do this for my own family.I'm going to find the single mom in my community. I'm going to find the kids that are adopted, or they don't have a dad in their life. That's their president engaged. I'm going to step up and be that for them too. I'm going to be that guide and, you know, coach teams and pull those kids in because they need it too.And that's the only way we're going to end this fatherlessness epidemic. 
Mike: 
[00:27:41] And that's, and they're not mutually exclusive either. I mean, like for your, for your kids to see you do that and even involve them in that in some capacity is extremely impactful. It's like, wow, I'm actually, it's, it's, it's the more caught than taught thing, you know, you're, you're modeling.How you say, Hey, I'm going to, I'm going to find those [00:28:00] that are less privileged than me. And, you know, maybe are, you know, have less than me and I'm gonna give them what I, what I have in terms of time or, or commitment or whatever we can, um, that, that is, that's a lie less than, and of itself that you can't, you can't just tell your kids that, you know, they're, they're gonna, they're gonna, they're gonna do what you do.Good and bad, you know, and no, I think that's a great challenge, Justin. So thanks. 
Justin: 
[00:28:27] Absolutely. Well, and it's not just, um, it's not just lip service either. We're actually I'm in the process. I'll, this'll be the first time we've ever really announced it publicly outside of the few hinting at an in post, but we're launching the world's largest virtual coaching platform for a middle school, high school and young adults called kid boss.It's about owning your future, regardless of your circumstances, you have the power to control your future and not play the victim. So whether you had a dad or didn't have a dad, or whether your dad taught you some things and not everything, it doesn't matter, right? You have the ability to own your [00:29:00] future, but you need those guides, those influences in your life to do it and to help set you on a different trajectory.So kid boss will be a virtual coaching platform where our dad, boss, coaches will coach, um, kids all over. Um, part of it will be paid. Other part of the scholarship then for kids through our nonprofit. And then we're doing three day intensives here at our home in Nashville where four kids will come at a time.We put them through our, our kid boss Academy. No, they learn all those skills over three days and they apply it all hands on, mites, myself and some other coaches that are here doing it. My own kids are involved. So they're watching the whole thing. We've done a couple of beta programs and it's just been life changing for the kids that have gone through it for me personally, and for my own kids watching it.And I'll tell you a short story to the kids that came through recently, biracial kids. Dad's not involved in their life. Mom's a single mom. Owns a hair salon, entrepreneur doing her best. She's an incredible mom, but they don't have that male influence. And they're 13 and 15. And through talking to them, we were talking about, um, health and exercise and diet and sleep.[00:30:00] And I got to sleep and I said, how are you guys sleeping here? And they said, man, we're sleeping. Great. And I said, that's awesome. So how do you sleep at home? Said, and the look at each other that like side look and I'm like, Okay, what's up. And they said, well, our mattresses are broken. We both broke our mattresses and we're too ashamed to tell our mom.So for the last six months we've been sleeping on our box Springs and we've been using our comforters as like the padding. And I'm like, you've got to be kidding me. Like, that's, that's unreal. Like how can you go focus at school? How can you do anything while you're sleeping basically on, on concrete or on wood.And so, um, or with a corporation we're going to get them to new mattresses. Right? It's like, how cool is that? But then yeah, he came out of the program. We were able to change these kids' lives and more ways than one, and also meet a physical need that they had. And like, that's what this is going to do.And I think everybody has the chance to get involved in that, or get involved in your own community and make those same changes. That's amazing. 
Mike: 
[00:30:57] So that's just launching, Hondu like, we'll have a link deck [00:31:00] put in the show notes or something like that. 
Justin: 
[00:31:02] Yeah. You can go to daddy saturday.com for now. We're going to all the web properties and the whole platform is being developed as we speak.So it'll be a 20, 21 official launch. So we've got the next three months that we're racing to the. The finish line to get this thing going. But yeah, it's an exciting project and it's going to be a big way that we reach that 10 million dads in 10 years, and then fatherlessness, because, you know, I got, I'll tell you, tell you, your listeners will probably get a kick out of this too.Dads are a pain in the rear end. I'm sitting there coaching all these dads and like half of them don't want to be coached. They think they're a great dad. They're like, I don't need the coaching or, or, you know, whatever. It's just a challenge. And I'm like, instead of trying to coach these dads to be better dads.What if I went and I provide the solutions for the dads that are there to still do that, which we have all that already. If I go and just get the kids directly and then bring those dads in to be better dads by coaching those kids. And then what's that going to do right in directly influenced them to be better dads to their own kids.And, [00:32:00] you know, we all win as a result and we take a huge dent out of this fatherlessness epidemic that we have. So that was the method behind the madness. It really came out of a frustration. I'm just saying. Why is it so hard to get dads to step up and, and be engaged in, in self-improvement as a dad? And this was one way to do it is tap into their heart and their, their charitable side of being able to give back.Yeah, 
Mike: 
[00:32:25] I think, I think that's, that's, that's an amazing approach and I think it's probably gonna work out really well for y'all because I think that, you know, you're, you're going right to the, to the issue at hand. Um, What 
Justin: 
[00:32:39] ha 
Mike: 
[00:32:41] I have a question. I think there's so many dads that their role as a father or their, their view of their children, um, morphs into a negative one of burden, as opposed to a huge source of joy and fulfillment, even though I would say, um, [00:33:00] A role of a father is the most thankless job.Well, the second only to CEO, maybe of, of a company, right? It's like, so how. How do you cast that vision for what it could be? If they're in a scenario where say you have a dad he's, he's not really present, he's not stepping up. And his kids then are suffering because of it. And there they are then not well behaved and they're resentful or whatever you have this really toxic environment, which is just going to fuel his notion that.Well, it's just a burden. Right. And so then they're not going to be coached and coachable because they're like, whatever those kids are just a hassle, you know, I'm kind of like the kid, the people at the grocery store, they're like, Oh yeah, wait until they're 12, then they're going to be horrible. It's like, Yeah, you have a really negative view of your kids.That's great. Talk to you later, you know, but how do you cast that vision for someone like, like, you know what I mean? Like, do you, is it, am I just, am I talking crazy or is that like, do you see that as like a potential, uh, part of [00:34:00] the solution? 
Justin: 
[00:34:03] Yeah, so, so my, my answer to that question is, is twofold. So one I pivoted because, um, I feel like you can get to the kids and the kids can get to the dads.Right. And so if I go directly at the dad, then what am I doing? Okay. Making him feel even more insecure and inadequate and apt. Right. And so that's part of the problem. I call it data envy. So you're striking that data in the gene a little bit. And then that causes a lot of men to go the opposite direction of how you think they actually should go.It's a phenomenon that I've uncovered. Yeah. And so you would think that that would hit their competitive gene and for some it does and they'll jump into it and say, okay, I'm going, they get after this. Right. But a lot go the other direction for some reason. And I haven't figured it out yet, but then the other side of that is, you know, I don't know that that's my audience.And when I looked at my bell curve, I said, okay, I've got 20% bottom. Let's just be honest. They probably shouldn't even be dads. They've got a terrible outlook. They're not engaged. It most likely will never be engaged. There's a [00:35:00] very small percentage of that population that's ever going to do anything to be better to their kids.Right. Um, it's the 80 20 rule. It plays out in everything in life. It plays out there that 60% in the middle need a little bit of reinforcement right there, right there. That is need to be reactivated re-engaged. So it's about finding out what, what it is. That's going to light their fire, reignite their fatherhood and move them from burden to blessing, move them from inconvenience to assignment.Right. What they were called to do to be that dad, to their kids, that at the top 20% there's dads, like you there's dads that are they're fully engaged, they're present. They're, they're getting it done. And they just want to sharpen their saw, right. They want to go to the whole next level and really achieve peak, which as a dad.And so, you know, that's that top 20%. So that's my 80% that I focus on. And so I really don't focus on that bottom 20%, because to me that's not where the fruit is. That's not where the population is going to bear the most growth. Um, and I treat those bottom 20% almost as if it's like the fatherless dad.And so I got to go get the kids, right. I need to [00:36:00] get them directly. And then there's a chance they may influence the dad indirectly. And if not, at least they're still getting what they need through a program like kid boss or something else. 
Mike: 
[00:36:10] Yeah, I think you're absolutely right. I mean, yeah, there's, there's only so much time you can waste on someone that's not coachable or that's not going to receive the message and you might as well focus where their most fruit can come.And I would agree with you on that. So unfortunately that's a scenario, right? That's the case. 
Justin: 
[00:36:28] Yeah. And you know, it's like, you want to save the world, but you can't save everybody. So you save who you can and you, you focus on the most people you can save. With what you have. Um, you know, I think that there's, there's also, again, the sense there is some technology emphasis here in this, in this conversation, you know, we also looked at how we can use things that are sometimes viewed as a negative.So if I'm gonna reach a population like that, how can I do it at scale? So we, we created an Alexa skill. So we have an Alexa skill called daddy Saturday, where you can actually go ask daddy Saturday, what you should do [00:37:00] with your kids on the weekend. So look at the weather in your area and she'll provide an activity for you based on the weather indoors and outdoors, put the items you need in your Amazon shopping lists.So you can order them directly from Amazon prime. Like it doesn't get any easier than that. So there's no excuse for a dad to say, well, I don't know what to do with my kids, or I don't know what I need. Like again, it a box and it's on Amazon. It's your door in a day or two. Um, Or three or four today. Cause of COVID, but you know, it's still, it's still simple practical.We have Google assistant coming out right behind it. So for those that use Android platform, they'll have their share of that too. And then we have our course dad boss, which is a digital product, right. It's. It's a seven sessions that are about 20, 30 minutes in length. And again, we talk about the investment.There's a small price to it. It's very affordable, but it's a nominal price to pay, to be a better dad and to get insight from other dads who have been there and done it and have a pathway for you to progress along that continuum. So there are resources out there. There's so many books in the space, right?It's just a matter of engaging. And what [00:38:00] medium fits the fathers that we're talking to. So for us, it was creating an Omni channel platform to reach them through a variety of solutions. Right. I have a podcast too much like you. So it's all about using the tools and the technology that we have to reach the dads through whatever vehicle they want to be reached in to reignite that role as a father.
Mike: 
[00:38:19] That's awesome. Well, thanks for chatting, Justin. I love hearing, you know, more in detail, what you got going on and I think you are definitely fighting the good fight and I, I, um, I, it just makes me happy to see all the stuff that you guys got going on and how it's evolved over the number of years. And so, um, thank you so much for.Coming on and sharing with my audience a little bit of insight, and I would say a lot, bit of insight and wisdom. So, um, I'll link all of this up in the show notes. You know, how people can find you and get involved and, and hopefully go through some of your courses. Cause you have some really good 
Justin: 
[00:38:48] content.Mike, thank you so much. It's been an absolute pleasure and I'm glad we're able to connect and look forward to future conversations. .