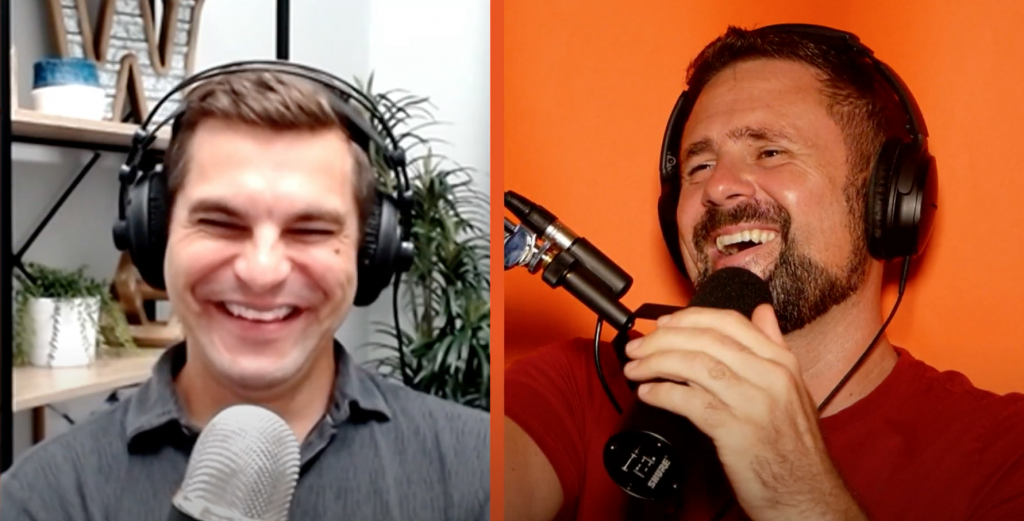 I had a lengthy chat with my buddy Kalen Jordan. We covered topics on marriage, homeschooling, to the pandemic. It was for his podcast but I wanted to share the audio with this channel as well. Enjoy!
Where to Find Kalen
Transcription below (May contain typo's…):
[00:00:00]
Kalen:
[00:00:00] Mike Sudyk in the building. Did I pronounce your last name
Mike:
[00:00:04] correctly? Yeah, I did work with friends.
Kalen:
[00:00:10] Hey man, it's great to get you here on the podcast. we've talked a lot about, fatherhood, you have a podcast two cent dad, which you've had some ridiculous level of guests on. and also just some really cool insights. And, we talk about homeschooling, you also homeschool. So a lot of interesting, and you also are like a recruiter.You work for a company that does that builds teams. So it's like we have, there's so much to talk about. but, what, how do you introduce yourself?
Mike:
[00:00:38] first of all, Kalen is a pleasure to be on your show, man. And I love everything you're doing. I love your consistency of just quality output, man.You're like
Kalen:
[00:00:47] output consistency of output, the quality you gotta caveat on that. that word,
Mike:
[00:00:54] I didn't say that, you could say that again.
Kalen:
[00:00:56] I can say that. I can say that. I can say that's kind of bias though, is [00:01:00] I have a bit of a bias for putting stuff out. And I think that it, it is what it is.Like I have a buddy that focuses intensely on quality of his technical setup and, maybe it's not as consistent on putting stuff out. So it's an interesting balance to find,
Mike:
[00:01:16] It's interesting. It made me think of, do you follow Matt D Smith? He does. Is he's a designer MDs. He goes by the Twitter handle MDs.He's a guy at Atlanta.
Kalen:
[00:01:25] I don't think so.
Mike:
[00:01:26] So it's interesting.
Kalen:
[00:01:27] I know a guy, I know a guy with a Twitter handle whale who I think his name is Matthew Smith.
Mike:
[00:01:34] I'm going to, I'm going to open up right now,
Kalen:
[00:01:36] but his Twitter handle is
Mike:
[00:01:37] whale.
Kalen:
[00:01:39] I don't think
Mike:
[00:01:41] it's MDs,
Kalen:
[00:01:42] but anyways, he
Mike:
[00:01:43] did this, like he did this like video project where it was like him, like in a, like a dystopian future where it had, it was like, you're looking through the lens of a computer.It's like annulling is analyzing his face and things are popping up and he did this. It was like an, it was like a time lapse. I took him [00:02:00] like an hour or two and it looked really. Cool. and this guy is super talented. and he's like a known designer, but I'm like, why is he doing this? this had to have taken so much time, yeah.Like content marketing, whatever. Maybe it's good for him to put out, but it struck me Kaylin that I was like, he got good by doing stuff like this. And to speak to your like, consistent output. It's You just do that. Like he probably, he enjoys it, obviously. I think you enjoy it too.I don't think it's torture for you. What, the content you put out, it's that's what he just does that. And he just gets better, yeah, just part of the process, And I was like, have I rationalized away doing something that probably would have gotten me better skills or whatever down the road of where I want to go, because I didn't think it was like higher ROI or something.
Kalen:
[00:02:47] Yeah. I think I think it is, we were talking a little bit about Gary V and one of the things that Gary V talks about a lot is don't get blocked by why not have the perfect setup, the perfect camera, just start putting stuff [00:03:00] out. and he talks about that a lot. And then, and of course his quality has gotten up over the years quite a bit.but yeah, that's definitely, I have a bias in that direction for better or worse. And then I'm also try to be. Conscious of improving quality as well, putting out content is tricky. I think for me really enjoying it is so much of the battle and I've definitely have times when I get burned down on it, I stopped doing it, and finding I T I think finding something you're genuinely interested in is the whole game on some level, like your podcast on fatherhood, I think is Cool on so many levels. And I think there's this real, I think there's this real gap in the world right now for fathers specifically. and particularly that intersection of people that are in business and at the same time, like if you're putting on your growth, hacker hat, Like doing a dad podcast, isn't going to make money necessarily.[00:04:00] But you're doing it because you love it. Cause you care about it. And maybe there's a cool way to monetize that. Maybe you could sell beards like kits or like who knows?
Mike:
[00:04:07] that doesn't even have a
Kalen:
[00:04:08] beard that's as cool as yours, but like maybe there's a way to do that. And that would be great.it'd be awesome to be able to give yourself this space too. 10 X, what you're doing there, but you just do it cause you love it. And I love that about it.
Mike:
[00:04:22] there's a fine line. That's a good point. You bring up. So I would say it's as fine line between authenticity and actually work that you have to put into it.it's it opens up the discussion around like following your passion, is that's like kind of BS advice, but there's some truth in it. And just content like blindly is not necessarily a good strategy either. There's like this careful balance there. And. I ha I started the two cent dad podcast, which you can find it to send out the number to send to ed.com.
Kalen:
[00:04:53] there we go.
Mike:
[00:04:54] I started, cause I just want to have these conversations. I was starting to run a business that had taken over the family business. [00:05:00] We build software teams or companies, and I think we had our second, we had our second at the time. So we had two kids that were under like, three and I'm like, I don't know how to do this.And I don't what I don't know how to do was, I didn't know how out of balance my time, because I actually really cared about business and I wanted to spend time there. It wasn't like, I hated the man and it's Oh, I just I hate my job, but I want to spend all my time with the kids. no, I actually really like this and actually want to spend less time with my family here sometimes.And that's not a good thing. But then there's some times I hate it and I want to spend time with my family. It's I don't know how to deal with this. And this is like a child, in the sense that you're like build this thing. And I'm like, I didn't see anything out there for that. I didn't see anything.Anything was, it was one of two categories. One was stay at home dads, which is okay, that's fine. But that's just not me.
Kalen:
[00:05:48] We could rent men. You could rent on that for a while.
Mike:
[00:05:52] I had all day, man. it's or the other one was, it was all business stuff. There was nothing it's they just you can't talk about business without talking about your [00:06:00] personal life or your faith. If you have a family about your family. And so I'm like find anything I'm like, I just want this to exist in the world. And I was talking to my buddy Alan Branch, actually. I don't know if you know him.
Kalen:
[00:06:09] Yeah.I've talked to him months before. Yeah. He was
Mike:
[00:06:13] the guy that encouraged me to just start the podcast. And I was like, I think about like a blog. I was like, I didn't really well podcasts wasn't on my radar. he's dude, just call these people up and just have a conversation hit record. And I was like, Yeah, that's what I was thinking.He's just do it. He goes, go get five people. And he goes,
Kalen:
[00:06:27] wow. He does so many cool things. He does so many. How many random, did you see his? Was it on YouTube? he did a full on, it was a TV show. It was produced by. Brilliant.
Mike:
[00:06:40] Brilliant. And I want to copy it. it was, he basically had a film, your company, you want it to buy this house and rehab it.It was like a aware home. He called it.
Kalen:
[00:06:49] He's
Mike:
[00:06:49] what if we turn this into a, like a show? And then he started I don't even know. I think he like filmed it and everything, and then he took it to Lowe's. I think it was Lowe's that's basically what [00:07:00] they basically just set a show down on their desk and was like, Hey, do you want to buy this?And he said, it was so compelling to Lowe's. So I talked to him about this and he was like, it was so compelling to Lowe's because they didn't have to with the production company, all the timeline. They're like, yeah, he got a whole bunch of free stuff. He's he would like, all these companies would just Hey, we're sending you a table saw.And I'm like, dude, you are like, I'm so jealous of you right now,
Kalen:
[00:07:22] right here. Like you
Mike:
[00:07:24] can't like you, can't
Kalen:
[00:07:25] not Alan brand. It's impossible. It's physically impossible.
Mike:
[00:07:31] so he encouraged me to do it. And he's I'll be one of your, I'll be your guests, like one of your guests. He was like the first episode, I think.and so it's interesting. Cause then I would just call people. I didn't have an agenda. And I think that intensity that you're talking about, you're talking about some more
Kalen:
[00:07:44] like.
Mike:
[00:07:45] People realize that. And I think you think about like sales, you think about whatever. It's if you're trying to be something you're not people's BS, radars are like hyper tuned.
Kalen:
[00:07:55] and even if you're being totally upfront, you're saying, Hey, listen, I'm a recruiter. [00:08:00] Have some great options for you. Those guys, Jason Calacanis DHA, sofrito. Those guys get pitched stuff all the time. What they don't get pitched is, Hey, let's just talk about fatherhood. I think that's what makes it such a unique pitch, because like you said, there is this let's call it 80% of dads or whatever the number is that have a job.They are dedicated to their work. They probably struggle quite a bit. If we're being honest with. I don't want to spend time with my kids. It's easier for me to focus on work and I need to focus on work. I want to provide for my family. And I've spent so many hours doing that maybe I lost touch a little bit with.And I think almost like in the entire world, there's People are trying to become more balanced in that way. and it is a, it's a real struggle, and I think that most days ads are somewhere in that spectrum and they're not the a hundred percent stay home, dad they're, and they're in this sort of messy middle, and I [00:09:00] think that's why it really speaks to something,
Mike:
[00:09:02] Yeah, absolutely.And then obviously COVID all that for, through everyone, into that, working remotely more and it made the middle in blended everything together, There was less distinction if you didn't really work from home or maybe you did on occasion, not only now, are you working from home full time?You really can't go to these places. You probably would go to your kids are home all the time. It's like it exasperates that, The boundaries, maybe like I found myself, I just need to get out of here. I need to like, yeah. And it's which is interesting because if you don't have that level of self care, it can actually breed resentment.
Kalen:
[00:09:37] You're just like,
Mike:
[00:09:39] that's not a good thing. and I don't, I feel like I'm not saying I'm like really good at that. Or I don't, it's not like I have a lot of resentment or whatever, but I'm not good at self care sometimes. I'm not good at being like, I just need like an afternoon or something, or like a few hours to just go, even just go for a walk or something to get out of the house.It's I'm not good at that. And then like it builds up and it's explodes, right? [00:10:00] Yeah.
Kalen:
[00:10:00] Yeah. I hear yeah, no, but that's so important to a lot of people really can't be so transparent about these things. And I think that there's such a need for that, cause all of us. Living in the real world are not perfect ads and wish, like you always have some level of guilt of I'm not doing it.I hope I'm not messing up my kids. I hope. and, those, yeah. especially for those of us that care about our kids. And I think that's, again, is that 80%, they really care, but you realize you're messing things up all the time. And, I feel like I'm spending.Actually less time right now, I would say with my kids then at some points in the past. But the difference is when I am spending time with them, it's no phones. It's no distractions. It's. It's on zoned in. So probably throughout the day I have a, we have dinner, we have a couple hours in the evenings and then a little bit [00:11:00] interaction throughout the day throughout work.we just, I just had lunch and I had, like a half hour, they were showing me some of the stuff they did and we were talking and stuff like that. And, So there's been times where I probably had more physical time with them because maybe we're spending three hours together watching TV or on my phone, on the couch.And so I have a little bit less time in some way, but it's so much more focused and I feel so much better about it. And then we have a real good flow, like on Saturdays, we have always do something fun together, getting out into nature, that kind of thing and stuff like that. And, so yeah, sometimes it doesn't necessarily meet because here's the thing.If I have to spend 24 hours with my kids, trying to be he somewhat sane and to pay some level of attention to them, it ain't gonna happen. I'm not, Like I'm not super dad. Like I'm not, and I'm okay. And I'm working to improve that and to look for ways to [00:12:00] get more time with them more quality time with them more projects together when we talk about homeschooling and things like that.but it's, There are limits. that's
Mike:
[00:12:10] not necessarily ideal either. Yeah. I'm not saying that you're saying that, but it's it's not like we should be striving for 24 seven, always interaction. they have to have boundaries too, Or not boundaries, but there needs to be time between those interactions for them to have life apart, and obviously it's different stages of life, but, It just speaks to the quality of that time and the engagement level, right?Yeah. It's like the extremes are easy, but the, but in parenting, so either you can be super hover parent or you can be super absent parent. and the super hover parent thinks they're doing a good job, but you're actually smothering your child. And that's not good. So but it's easy to be an extreme.It's easy to, it's hard to be somewhere in the middle. Like it's like the classic case is like teachable moments for your kids where. It's it's easy just to either tie their shoe or just to tell them, tie your shoe. I'm getting [00:13:00] the van, you better tie your shoe and just. Just come there, Or if you're like, Hey, let me teach you some techniques. I'm not gonna type for you, but let me be like, stand at your shoulder and show you what you're maybe doing wrong. that takes that might take like 10 minutes as opposed to 30 seconds to tie their shoe. Maybe that's a crappy example, but it's all the work is somewhere in that spectrum in the middle, right?Yeah.
Kalen:
[00:13:18] It's a perfect the example. I'll be honest. Like I was talking to my buddy today or yesterday and, I had this moment where, my youngest daughter or my middle daughter, she's five was a. She leaves the door, open the backyard, the back door to the backyard. And we have tons of flies in the house, all of a sudden this last week.And it drives me crazy and I kinda got a little upset. I was like, I kinda raised my voice and, tell her to hurry up and not leave the door open. And I was like, I caught myself and I was like, ah, like that was the greatest thing, too. To get frustrated. and yes, like you said, like it, it was quick and easy to say, Hey, close the [00:14:00] door.but would have been better to take a little minute to say, Hey, how can we get you to remember to close the door? You know what I mean?
Mike:
[00:14:08] Yeah. And it's then you also have a moment there. I'm with you on this. This is, Yeah. without trashing my kids, I could go home.It's you can either. there's also if you do react that way, which I find myself doing that multiple times, It's you can then go in and say, Hey, I'm sorry. I, I shouldn't have done that. And actually apologize and show them how to do that, where you can be like, I'm not gonna do that.Like ramp down and I'm gonna, I'm gonna, I'm going to just make sure that they remember to close the door or you just close the door for them, or something is like, is there's a middle ground there. And yeah.
Kalen:
[00:14:46] Yeah. And it's, in the day to day in the little moments when you're rushed and and then the other thing yesterday is my wife was sick, so I was doing breakfast.I was doing change the diaper. I was, stepping up in some respects to help [00:15:00] out more. But sometimes when you do that, when you push yourself, you just have a little bit less, patience for things that come up. And so it's I'd love to be that perfect dad that could do everything, take care of everybody and also have perfect patients.But it's like in real life, there's, you always second guess how did I handle this interaction, that interaction. and so it's, yeah, it's, it's tricky. when you have life getting in the way and stuff like that. But the whole homeschooling thing is real interesting right now because in, it's exploding right.Due to COVID and you've been in the game for longer than I have. I think. How long have you guys been homeschooling?
Mike:
[00:15:41] Pretty much since the beginning. And I should say we, mostly if which I'm sure you're in the same boat,it's totally fascinating. I think, I think the silver lining for COVID is people waking up a little bit more to their being more engaged with their children in general, [00:16:00] and also questioning the education process and the kind of the, just the normal path, which is like public education.They're just questioning that. and I don't mean to say that. That's all bad and there's no redeeming value in public education. I listened. I went, I was homeschooled first through fourth grade, then went to public school, had a great experience. but it's interesting to me, Kaylin, how it's It's almost like the remote work thing. if you'd normally worked in the office and you're also now working from home and you didn't have any sort of systems for doing actually remote work, you're not really doing good remote work. You're just doing work from home. It's the same thing as if you go to, if your kids were all suddenly having to like, do remote schooling for public schooling, like that's not really, I was calling.but, But
Kalen:
[00:16:43] it's everybody's getting a, like a crash course in. And there's such a learning curve. I don't know about you guys, but we've been doing it now for five, six years. And it was super hard in the beginning, the first year or two. there's a lot of learning, figuring out your curriculum, [00:17:00] figuring out am I crazy?Is this totally nuts? Especially my wife and I, yeah. A hundred percent. Am I ruining my kids and stuff like that. So all of that learning curve, like. Nope. Like people doing it now, it's so accelerated and they're not even choosing to do it. It's just I'll do this. Cause I have to, but the second I don't have to do this.I'm done, so it's very different.
Mike:
[00:17:26] In its essence, the way that we think about homeschooling. And I think you probably do too, that it doesn't matter actually, where your kids go to school. it's an ownership of your child's education that you're not advocating to someone else. And That you can do that. If your kid attends a public school or a private school, or you do homeschooling, but it it changes your thinking on like I'm responsible for my child education. And so I'm going to, not only, I'm going to choose the best, [00:18:00] maybe main education route, but I'm going to, I'm going to seize any sort of teachable moment.I'm gonna, I'm going to give them experiences such that it's going to round out there. worldview and all of this stuff. And it's and maybe you say, Hey, I assessed that. I'm probably not, able bodied enough to do traditional homeschooling. So I'm going to, I'm going to seek out these alternative methods.I'm going to send them to a public school, but I'm going to do these things to supplement that or whatever. Yeah, that's fine. Yeah. I think that's the exciting thing that I kinda see with COBIT it's It's people's like eyes opening up where it's like the traditional path is yeah. Once the kid hits like five, six years old, they're going to like preschool K you know, kindergarten and on up.It's that's just, you just ship your kid off to school and you see them after work. And that's just how it was. And it's yeah, that's really advocating the role where it's you were like, First there was chaos because, you had to do things from home and then you're like, wait a second.Like maybe they shouldn't just do worksheets all day. And when they're in first grade, and the metric could be that they got 30 worksheets done. Like maybe that's not the bad weight. [00:19:00] I've been doing it
Kalen:
[00:19:01] at most school. Okay.
Mike:
[00:19:02] what should they be doing? So then let's like, people are like Googling, okay, what should we be doing?Or what are some of the activities? Or they're just like, Where they're just like taking them to the store. guess maybe not Colby, not taking him to store, but it's you're just doing life with them and you're using that to teach them, And it's yeah. Yeah. That's really cool.
Kalen:
[00:19:17] Yeah. And I think there was probably a time in the U S and in other countries that made that time may be now where the educational system was so strong and the alignment of values. evenly distributed, everybody was on the same page where you really could do that. You could just send them to school outsource that, not worry about it.And there's something very simple and nice about not having to worry about that, but just due to, the age we live in, it's just not the case. No matter, like you said, no matter what situation you're in public, private homeschool, whatever you have to take an active role in. It's [00:20:00] really, it's, education is a subset of parenting.And a lot of times there's this mindset of you're the parent where the teacher don't, don't step on our toes. and to have that shift in thinking, I think like you're saying is huge. It's the biggest shift, by far, that you can have in the context of, education, your kids education and.
Mike:
[00:20:21] why do you think you're saying the values you think shifted or, what changed? besides just having Rose colored glasses for what was right in the fast now that we're like getting to be an old guys here, but it's like, what shifted, I'm curious what your thoughts are on the active thoughts on that.But I want to hear it.
Kalen:
[00:20:37] I try to stay out of things that are. Political adjacent, you can get yourself,
Mike:
[00:20:43] can we can't get, we can't get the podcast canceled here.
Kalen:
[00:20:46] yeah. I,
Mike:
[00:20:46] you want Kayla?
Kalen:
[00:20:47] Yeah.
Mike:
[00:20:49] You edit out me.
Kalen:
[00:20:50] Yeah. I don't really do any editing, but, but, Yeah.I, if you are, a little bit more conservative leaning, there's a lot of things that are not going to be real, super [00:21:00] aligned with your thinking, leave it at that. and even just, outside of that, is just the, I'll give you an example. Like I went to public school, it was mostly fine.there was, like I was, like when I started going to high school, I had a group of friends and they had some friends and it was like a hazing thing. Like all my friends are like Korean and so their older friends were like, we're going to beat you guys up. So they were going to beat us up.But I was like, terrified about that. Then I got into a couple of fights in high school. There was a shooting. when I was in junior high junior grade or whatever, my wife's high school was about 10 times worse than mine with gang activity and things like that. And some people say, it's socialized that's life.That's you want your kids to, I understand the real world. And on the one hand, I do want my kids to go through challenges. If they have. This perfect life. And they've never had anybody be mean to them before. that's part of life. You gotta learn how to deal with that. But that [00:22:00] doesn't mean that every negative situation, just because it's public school is automatically healthy socialization.There can be environments that I saw somebody use the phrase. Psychologically abusive. ma there can be environments that are safe, ecologically abusive, or physically abusive. And just because it's public school, it's socialization doesn't mean that it's a, okay. Like you want your kids to have challenges.you want them to learn to socialize in like when you homeschool, you have to figure that out yourself, you have to you're out a, what are we going to get them into? Our kids are in dance or in music, they're in all sorts of stuff. but you have to create that yourself. it's almost like.With this whole kind of creator economy, like many people are becoming creators of content or making a product or selling something. And it's as a parent, you have to create the environment that your [00:23:00] kids it's like a choose your own adventure. it's like there, isn't just this one path that works for everybody.It's you gotta create all that. And then of course the challenge is, am I being. To micromanage. Am I micromanaging too much? Am I being too controlling? are we it's a tricky and everybody has their own philosophy on it. I have daughters I'm super over-protective, the idea of anybody doing anything that would hurt my daughters, it's I would, I'd go berserk
Mike:
[00:23:27] I'm with you on that, man.Amen. I would be, yeah.
Kalen:
[00:23:31] We'd have some problems
Mike:
[00:23:35] we have some
Kalen:
[00:23:36] that we'd have some problems, but what are your thoughts on that?
Mike:
[00:23:41] I like what you said about like you're the creator trend and you're actually creating the education experience for your kids, which I wholeheartedly agree with.you hit on a lot though, so I'm trying to figure out what to respond to. The whole socialization is a misnomer at it with homeschooling [00:24:00] it's like people obviously have no. When someone says that they actually have no idea. that's a, they have no idea when you're like, Oh, it's okay, we're not almond, but that's cool.anyways, I'm just like, I don't even want to talk to someone like that,
Kalen:
[00:24:12] by the way. I think the Amish might be the one group of people that have it figured out,
Mike:
[00:24:16] there's some truth there. Yeah. I'll give you that. I'll give you
Kalen:
[00:24:18] that.
Mike:
[00:24:21] so there's the socialization piece then?It's okay, so you're just saying your socialization is just throwing your. Throwing your kid into a group of unknown people that are just going to shape them and mold them. That sounds like a good idea. Yeah. Good one. Look with that. but socialization, actually, when you think about that, it's then you have to ask the question, what is society and does it match my values?And that's what you were saying. I think earlier you're saying if you're more concerned, Okay. Then you have to look at what is the environment like that, public schools are, shaping and that's a whole nother discussion. I don't actually have a lot of Intel on that because my kids are homeschooled.So I don't know what the current state of that is. I know that when I went to school, I'm 34. So when I was in high school, it was like, [00:25:00] it wasn't that way. there wasn't some of the stuff that's going on now, but the interesting thing, that you were bringing up about, creating your own education, and then you said, how overbearing do you be or how involved?And that ties right in with the challenges. And I think something I'm thinking about right now is like, most of my oldest is nine. And I think that's similar to how your oldest is.
Kalen:
[00:25:20] She'll be 11 in about a week.
Mike:
[00:25:23] Yeah. so pretty close. And
Kalen:
[00:25:24] It
Mike:
[00:25:25] as they get kinda like to that age, this is my thought, I'm not an expert, but it's you want them to struggle with some things you want them to start to have to go through sorts of like rites of passage.And my oldest is a boy. So I think there's a little bit more tendency to like, Hey, I want him to toughen up a little bit.
Kalen:
[00:25:39] But it's It's so good,
Mike:
[00:25:40] but that's hard. That's hard. And there's things that are built into the traditional schooling system. Like sports, like some level of hazing that's actually okay.
Kalen:
[00:25:49] it's kinda
Mike:
[00:25:50] it kinda toughens you up a little bit, so it's you don't want to fully eliminate that. And it's
Kalen:
[00:25:54] I want my, I got into fights when I was a kid. I kinda I kinda want my son to go [00:26:00] through that on some level. You know what I mean? To have that
Mike:
[00:26:03] you know about your stuff.You never been in a fight. I don't want to die with it. Scars,
is that what a man looks like? Calvin Klein. Quote, some fight club.
Kalen:
[00:26:11] Yeah, exactly. I sounded like a quote. Yeah, exactly. But what I hear you saying, it's like you want them to go through some challenges,
Mike:
[00:26:21] so I don't have a good answer for that.but I think what I see and I observe in society is that. There's a tendency to soften things up, right? It's you don't want anyone to be offended. You don't want anyone to, you feel a microaggression, whatever the heck that is. I don't know. It's like you don't want any sort of pain or anyone to feel ostracized or excluded.Are there extremes of that? Yes. Is, are there things like racism? Yes. I'm not saying that, but I'm saying like, there's a thank you. If you go overboard with that, you [00:27:00] remove, you have to just be cognizant of what is what baby is being well, not with that bath water, so to speak. And, it just interesting.I don't know what that is. And so okay. Sports, you can recreate that with homeschooling. you can do some other things. But I'm just trying to be cognizant of that because I think it's a really important developmental, aspect of growing up. And the key thing is like, How do you respond when people that don't like you do things to you?Like, how do you, how does your character get built around that? And then how do you respond when something, you pour your hard work and your soul and your sweat into, and it doesn't work out, like, how are you gonna respond? Those are essential life skills. You have to learn to be successful.And it's like, how do you manufacture that? Almost not me. Gotcha. But like, how do you put your kids in situations like that?
Kalen:
[00:27:44] yeah. and we had, I think about a scenario we had, I had a back a while back where, I would take my daughter to the park a lot. she's yeah. Like the most social person.And that's one of the things that's like you said, I worry a little bit. Am I screwing up my kid, but I see how social [00:28:00] she is in. every different scenario. So we go to the park a lot, she'd meet people. And there were situations where there was people who I thought there was a good relationship there, but then things would start to happen.And there was a, it's kids stuff. It's going to the park and her not wanting to play with her. Which sounds very childish. It is childish. But we had, there was a period of months where I would take my daughter home crying. almost every time we went to the park because of this one particular thing.And, that's, it's a silly thing on one level, but there was some real relational pain and relational struggle there and, rejection dealing with rejection and stuff like that. And we had to talk her through it and stuff. And so it was a scenario where, on a micro scale at a young age where there was some real relational struggle she was working through, but we were working with her.Through that somewhat closely and talking through that and, [00:29:00] she was, I don't know, six or something like that. and my wife, continues to talk with her a lot about everything that she goes through, but I think that's a little bit of my mental model for it is that things are going to come up.And you just, hopefully you're close to your kids, right?
Mike:
[00:29:17] yeah.
Kalen:
[00:29:18] it's there's the whole hover thing, right? Anytime you're spending too much time with your kids, it can be called you're hovering your helicopter. But I think that on another level, we want to be close to our kids.And I don't think that maybe, I don't know if that's necessary really, common in our society to be close, to have a close relationship, to have a close dialogue, to really, have a lot of a high level of trust and communication. I think for me, that's the goal, I w
Mike:
[00:29:47] so I would agree with that, but I would disagree on some level to say, you also don't want to just be their friend.Like you want to be their friend, but you start to be their parent, And I think that's what I think what I heard you say, though, is it sounds like you guys, you took a good path. You took the [00:30:00] middle road, right? You didn't take an extreme, so one extreme could be like, you don't go back to that park anymore, And you remove her from that adversity. That could be one extreme or one extreme could be like, you just got to get over it. whatever your daughter's name is he's got to get over it. And then you don't say anything, you don't help her process it. And it's so it's you gotta put in the work to talk her through it and be like, I don't know what you said, but it's like this is this is, these challenges are going to come in life.There's some people that are just mean, and like this is gonna happen or I'm sure you it's you can like, help her sort that out. Cause it's she's like, why is this person meeting me? am I a bad person? Or. did I do something wrong or am I less than valuable or something?I don't know. She can have all these thoughts and she can process them in a vacuum or you can help her process them, and help her mature. So it's again, it's that middle road? It's you gotta put in the work. Yeah. But it's not, it's not easy. It's and as a dad, you're like, Dude.I don't know what to say. I never had a six year old get bullied before. I don't remember when I was six. I don't know. Like it's kinda
Kalen:
[00:30:58] and then you're kinda, you're [00:31:00] kinda, you're yeah. Analyzing the situation and you're trying to figure out, is this just a regular disagreement argument or is this a scenario where this person doesn't have the best intention for my daughter?It doesn't really care about. My daughter, And you're trying to, and you don't know for sure. And as they get older, you have less and less. I'm not at the park. you have less and less direct contact in some way, ways and stuff. And so you gotta read between the lines and try to figure it out.like at the end of the day, like healthy relationships will have challenges. And you've got to work through those challenges, But is it a healthy relationship or an unhealthy, if it's an unhealthy relationship you want to encourage them, probably get out of it, A healthy relationship with challenges.You wanna encourage them to work through it. and so I, Those are the things that are hard to know, for sure.
Mike:
[00:31:53] And to realize what you said, healthy relationships have challenges. That's actually something I had to learn in my [00:32:00] marriage. and I'm going to take us on a little tangent here.So my parents, I grew up in a great home. My parents are awesome, but one thing they didn't do is they didn't resolve conflict in front of us. So my parents, it's not like they fought all the time, but disagreement, we might see one of them raise their voice and maybe they'd get into something, but they would resolve the conflict, apart from the kids.And maybe that was by nature of they'd be like, go play downstairs, like we're arguing or something, or maybe they're resolved in the bedroom. And I didn't want to see that anyway, but but like it's a. It's interesting that had an effect on me because by nature, I'm a positive conflict avoidance it's person by my personality.Yeah. And so I wouldn't want to conf have conflict in our marriage, so you'd avoid it cause you'd be like, Oh, conflict is a sign that our marriage isn't doing well. So this is like in the first year or two of our marriage was like, I had to learn how to fight and learn how to resolve things.And so it's interesting when you talk about like with kids, it's there's [00:33:00] more caught than taught is the term, right? It's so it's there's one aspect of what you described with your daughter. Where it's you actively are involved in talking her through that, but there's a whole nother dynamic where she's watching you and your wife, like
Kalen:
[00:33:15] she's
Mike:
[00:33:15] seeing how you guys treat each other, right?Yeah. Okay. if mom is treating dad poorly and the dad doesn't say anything, or I never see her apologize and I never see her say, I was really stressed and I'm really sorry. And then you to be like, I forgive you or whatever, That speaks volumes. and so it's just interesting to think about, and we're not perfect, right?listen, and my wife and I have fun in front of our kids multiple times, it's and I'm not at all, but it's like being aware of that is I think one of the most important things to be like, really, and that goes when it goes like a hierarchy of like where you should prioritize, You should work on your marriage because that, and loving your wife, because that's a, that's going to flow into everything, That's
Kalen:
[00:33:57] yeah.
Mike:
[00:33:58] it displays, so many lessons [00:34:00] to your kids.
Kalen:
[00:34:01] Yeah, it does. And I think that, that's something I've been thinking about a lot in the last several months in particular.And, I think that we can really, we can be quick to downplay that. if we are having some conflict, it's as long as we don't, yell at each other in front of the kids, as long as we don't it, but kids see everything they see and they feel all of that tension.So if you're not affectionate, loving, having fun, enjoying each other, anything short of that, Even if you're not fighting, but anything short of that is having downstream effects on your kids, and I'm really.
Mike:
[00:34:45] It comes full circle toward talking about content. You're kidding. Being authentic, but then being diligent and doing the work,
Kalen:
[00:34:51] it's
Mike:
[00:34:51] you need to be authentic in front of your kids.I need to show as much passion and love for my wife in the, when I'm feeling positive about her. And as much as I [00:35:00] do when I'm feeling negative, if I'm getting like real mad and I'm raising my voice, I better be doing the same thing when I'm like actively trying to resolve the conflict and make up and apologize.But I better do the work because if I don't do the work of that
Kalen:
[00:35:12] aspect of it,
Mike:
[00:35:13] then it's not going to be good. Then I'm just flying off the handle every time. Yeah. But you have to be authentic in that, cause you're right. You're kid you're so right. yeah, your
Kalen:
[00:35:22] kids,
Mike:
[00:35:23] they pick up on everything, man.and your tone is going to change to them. If you're mad, if you're fighting with your wife or whatever, and if you're stressed out at work or whatever, like they know that,
Kalen:
[00:35:32] yeah, they do. And then they need to, in an ideal world you would work all your stuff out.In the other room in the bedroom somewhere else. And then you'd be perfect in front of your kids and your family, but in the real world, there are going to be days where you're at a bad mood where you're having some level of. conflict, and they're going to see how you work it out, how you deal with it, how you negotiate, [00:36:00] situations with your spouse.And it's not always going to be pretty. It's not always going to be perfect. but they're gonna, they're gonna learn from that, and I just think, man, I hope I'm setting a good example. for them, because they're going to have all the same stuff, like everybody. Go, it's this circle of life.Like they're going to be parents one day, they're going to have those annoying situations. They're going to have, they're going to feel guilty that maybe they're messing up their kids, and all that stuff, cycles and repeats,
Mike:
[00:36:30] And it's interesting. Like the, I was just thinking It's a weird balance between focusing on your kids and not focusing on your kids, when you talk about modeling things.So if your kids are the center of your life, that's not a healthy thing because then they have a focus always on themselves. And I was thinking about like, When it comes to like physical fitness, like I've been trying to incorporate my kids and like my workout routine. I think that hashtag kid iron, we were using you and I were posting some videos
Kalen:
[00:36:56] and views on that video, man.Yeah. [00:37:00]
Mike:
[00:36:59] It took off. I tagged a guy called Zach homo in India, runs a gym over there. But so that was, I'm just riding on the coattails of like really Twitter, famous people. But,
Kalen:
[00:37:08] it's
Mike:
[00:37:08] I'll just be like, Hey, I want to go for a run and I'll just go, I'll say, Hey, we're going for a run. And my youngest two, I'm pushing a jogging stroller.The older two are riding their bikes. And it's just this isn't me saying,
Kalen:
[00:37:17] let's chat
Mike:
[00:37:18] the whole way. And I'm this great dad. I'm going to be like catering to my kids. It's no, I make a commitment to myself. I want to be more physically fit. I'm involving the kids. It wasn't really even an option.I'm like, we're going for a run. And sometimes I'll just I don't want to go for it. I'm like, no, we're going, it's gonna take 20 minutes and you can ride your bike. Come on. it's yeah, But he's seeing that as a priority, right? It's Hey, I'm self focused on fitness and we're going to be focused on fitness as a family.but it's just modeling it. It's like this isn't about him. This isn't about, we're not going to go on the road that he wants to go on. We're not going to go to the, they want to go to the park sometimes. And we go to the park sometimes, but it's no, we're just going to run, we're doing this.And it's I think in the same way with marriage, one of the things that's interesting is if you're just fo people say. Don't try to work on your marriage, like work on yourself, or from a spiritual perspective, it's like [00:38:00] work on your
Kalen:
[00:38:00] that's my whole mantra. that's my whole thing.
Mike:
[00:38:04] It's crazy. And it's maybe there's something as it relates to kids. It's If you're focused on your kid, I just thought of this when you were talking, it was like, if you're focused on your kids all the time, that's actually can be a negative. Cause you're like hyper hovering and you're like assessing everything and you're
Kalen:
[00:38:19] like this about everything.Yeah.
Mike:
[00:38:20] You're anxious. And it's To where, whereas if one step above your kids is like your wife. Yeah. You're like, I'm gonna focus on loving my wife. And I know that there's gonna be a lot of downstream effects from that. And I'm gonna focus on like health and I'm gonna focus on, I'm going to focus on, serving people in the community maybe, or your faith, you say we want to pray or read the Bible more or something.It's That's going to have all these downstream effects. They're going to see that I'm interested in these things. I'm passionate about these things and they're going to learn, and then they're going to be naturally inquisitive, right? that's the other thing, like when it comes to education to loop that in is like, Kids are so naturally curious,
Kalen:
[00:38:53] yes.You just got to,
Mike:
[00:38:56] you surround them with resources and like just fuel [00:39:00] their fire. Yeah. If you're not serious and you're not learning, guess what? They're probably not going to care about learning either there, if you just
Kalen:
[00:39:08] watch TV all day or just
Mike:
[00:39:10] don't do anything.
Kalen:
[00:39:11] If you're just like, if you're just miserable and stressed out and then you see your kids and you're like, do your homework and duh, that's not going to be inspiring for them.my daughter has been, drawing a lot, she's always loved to draw and she's started to do it on her iPad. And I was, I noticed, I was like, dude, she's drawing every single day in her, like free time, And for a long time, I just Oh, that's really cute. That's so cute. And you know how it is as a parent, like sometimes the drawings are, yeah, they're beautiful to you.Cause you're the dad, but they're not. Yeah. when I was like, dude hurt your lungs are getting better and better. And then at one point I was like, dude, maybe she is going to become an illustrator or something like that. And I'm always thinking of, it's an interesting tension because my wife is very into a classical homeschooling model, [00:40:00] reading the classics, penmanship, writing, read like non-technology and I'm very much technology and stuff.So I'm always thinking, okay, Man, could she become an illustrator? Like how can it, I started teaching her to type she's up to 16 words a minute and stuff like that. And, I'm always wanting to push in that direction and we have this natural tension, which I think is good because I don't want her to just be purely technology.And we don't, we don't let her use it phone were planning not to let her use social media for a long time. but trying to find that, that balance and trying to. cause like for example, I'm a programmer. I would love for her to want to be a programmer. And I had tried to get her into programming and there's some really cool, materials for kids to learn to program visually and stuff like that.But it just didn't, it didn't take off it didn't it wasn't there. And then now I'm seeing this illustration thing. I'm like, man, I'm like, this is great. So then I'm encouraging that I want to get her a [00:41:00] nice Apple pencil and some of the things that will help her down that path. but yeah, so I've been thinking a lot about that like seeing the talent, seeing the curiosities and then trying to, maybe push them a little bit in a direction they're already going in, is, is such a big part of it,
Mike:
[00:41:18] Yeah. And in order to do that, you have to be very like observant of what they're interested in, what are they what's catching on? And then you feed that fire, throw a little kindling on it, like to get it going up. And it's okay, I want to equip her. And I'm going to invest in this and we're going to get her, an Apple pencil or whatever and whatever that is.you're just stoking that natural fire that's there. And it's interesting. You say like my wife and I are the same, like she's more classical. I'm more like, yeah. As technology and I, I want my son to like, learn how to code and he's like interested in it, but it's there is something to be said for that's the world they're going to grow up in.Like you can't, you have to be able to. talk about socialization or wherever, but it's you also have to know how to use the tools that are exist. And you gotta be aware of them at least enough to [00:42:00] use them to what accomplish what you want to accomplish.
Kalen:
[00:42:02] Yeah. One of the huge things I think about a lot is I want to teach my kids like.When you look at social media, there's obviously a lot of negatives, especially you think about teenagers just being absorbed in tick-tock or whatever. And there's a lot of negatives, but I think that there's a lot of real positives to knowing how to effectively build relationships online. Like I heard, I saw the phrase, digital relationship building.And I was like, wow. I was like, that's something that I do a lot of and I didn't have, that's why we're
Mike:
[00:42:37] talking. That's why we're talking.
Kalen:
[00:42:38] That's why we're talking about Twitter, man. Yeah. That's something that's something that you do an amazing job of, and you've built relationships with some of the real high level people in tech and on your podcast.And I'm sure you're also. They're really good at sales. I think sales is a really interesting job as well. and so I think a lot about that. Like I want to, [00:43:00] obviously it's great to have local relationships to be involved in whatever activities you're involved in, but I think the skill of digitally building relationships is so important and it's something that I want to teach them how to do, but it's especially at this age, I'm not going to just be like, okay, here's Twitter have fun.because there's a lot of, there's a lot of garbage on the internet, So finding that balance is going to be a little tricky.
Mike:
[00:43:29] that's, you don't give, you wouldn't give your daughter like a machine gun, You might say, I give her a BB gun, and I'll watch her use it for a little while.So she doesn't shoot her sister's eye out or something, but yeah. It's it could still be a tool if you need to learn how to like hunt or something. It's yeah, these are how to use it. You can get them out of here.
Kalen:
[00:43:47] Yeah, exactly. Exactly. And it's the internet is. such a double edged sword is such a powerful tool.but it's also a, it's a tool that can be used for positive or negative. There's all these studies [00:44:00] on increases in depression among, kids. And I think specifically girls, because of all of the comparison, all of that stuff. And it's that stuff is real. that's not, yeah.A small thing, that's and that's us
Mike:
[00:44:13] too. Katelyn don't you I'd say it's just my girls.
Kalen:
[00:44:15] it's I see what you're doing. I'm like,
Mike:
[00:44:16] Oh, Caitlin's got some, it's got the sweet podcast set up. wow. His Mike looks cooler
Kalen:
[00:44:21] than mine. like it's a reality.
Mike:
[00:44:23] You can use that though. And you can be like, okay, am I getting caught up in that?Or am I saying, how do I, if I really have an objective to like, increase the quality of my audio, I'll look at what people are doing and I'll mimic that, but I won't get down that road of I'm going to be like, watch 100 them or whatever. So it's
Kalen:
[00:44:40] yeah. And it a hundred percent affects us as third I'm 39 years, almost 40 year olds, a hundred percent.affects us. And so we had a whole life that we grew up without all of this technology. So how much more so does it affect somebody who's 14 [00:45:00] doesn't know anything else? The brain isn't even fully developed, It's going to be so much more intense, but you're right. At the end of the day, we have to figure out how to grapple with those.with the pros of being able to be inspired by somebody and to want to improve yourself and the cons of sometimes just being filled with jealousy and anxiety and things like that to where it's not helping you. And you have to you have to know yourself and you have to be able to, like there are situations where there's somebody who I'm constantly.feeling jealous of or whatever, and it just. It doesn't help me. It doesn't help me at all. it's not something, whereas I always tell you how impressed I am about your podcast guests. Yeah. And like that to me is like an iron sharpening iron, like it's inspiring to me. So I think that you just said, you got to know yourself, you've got to know which things inspire you and which things don't.For whatever reason and just, kinda [00:46:00] curate this stuff that you're following, you got to curate your feed, to make it work for you at the end of the day. Yeah.
Mike:
[00:46:06] and I'm learning that I definitely have not learned that. I would say I get sucked into that trap often. And I think it's interesting because I feel like you and I are the generation where we We grew up as this stuff was coming out is just after, I didn't have Facebook in high school or really even like college. It was like, after that, but you're young enough where you adopted it cause you're like a early tech adopter. So it's we saw that and then we could figure it out.And now stuff is coming out of the negative effects of it to whereas like kids that grew up, maybe just after us, it's They didn't know all the negative effects. And they're just growing up with all of this technology and it's okay, now that we understand it's our, we need it.We need to write the training manual or the user's manual for some of this stuff
Kalen:
[00:46:50] right.
Mike:
[00:46:51] Of how to avoid the pitfalls. And it's interesting. It's all goes back to balance and maybe that's too cliche, but [00:47:00] it's it's always in the middle, So the guy that I look up to that I get envious of is a guy by the name of him, Nathan Berry, which I know, you know who he is.He's a founder of convert kit. He was on the podcast, upload that to toot my own horn. he wrote a blog. I don't even remember. I don't know if I even read the whole thing. it was basically talking about how great attitude is like a bunch of BS and like it breeds complacency. And I thought it was the most, like I thought it was just like a.
Kalen:
[00:47:26] That's a controversial take counter. it's a controversial take,
Mike:
[00:47:30] but it was I didn't agree with it. but I didn't. but if you think about that and I'm like, he's right. To some degree, I think you're always constant. If you always concentrate on gratitude, like then you can fall into complacency.Cause you're just like, Oh, my life is so great. And then you don't like aspire to greatness and but it's interesting. Cause it's he. Also hearing about some of the things that he dealt with, like some anxiety and some different things like that as he was growing convert kids. And, some of the titles that took and like we talked about earlier, I think about a guy by the name of Sean McCabe, who [00:48:00] Sean West at Sean West, I think is his Twitter handle.He took a sabbatical year because he got burned out. And he was a guy that I looked up to. He was like putting out a ton of content. It was like amazing. And he just did really good work and it's I was inspired slash envious of him. And. It's a fine line between being just envious or dismissing them for being like, Oh yeah, that's great.But he has a crappy family life, so that, yeah, I could do that, but I, that's what the cost, so it's whatever you just poo-pooed away to. Whereas if you take the middle road to say, how can I be inspired by this person? Or what can I learn from them and be aware of, okay, what are all the pros and cons here of what this person's doing?And how do I make myself better? As as a result, it's yeah, we're talking about Gary Vaynerchuk. He's a classic example. Dude says family first. And then he works like 24 seven. And it's like, why don't you spend the time with your family man? dude, you're obviously a horrible dad. And maybe I'm saying that to justify the fact that I'm [00:49:00] not hustling as much as he is, but Something's not adding up here.
Kalen:
[00:49:04] Yeah. I remember, I remember listening to Gary V back, maybe 10 years ago and there was a time and there were, and I think he's evolved on this topic quite a bit. And he had said something like, he was like, yeah, I'm going to let my kids use a phone from whenever they're young and whatever.That's the world that they're in. And it was just like a very, it was like a very like capitalistic approach sorted to kids. And I had to stop listening. I was like, this is too much for me. And I've gone in and out of phases. And then more recently as I've listened to his stuff, I really love his, a lot of his approach.And I think he's balanced out over time, and he talks about how he'll take these six week vacations that are totally unplugged, just family and things like that. And then when he's working, but on the weekends, he's taking off and finding his own balance. I think finding zone balance within a context of being.Driven at a level that we [00:50:00] probably don't understand what's going on in his brain of how driven he is and finding that balance, I think can be tricky. But, but it's interesting because I, I find that there can be people who, particularly, if I feel like. We are at the same level or we're close to the same level.And then all of a sudden they're up here. I have a hard time drawing inspiration. It's easier for me to feel that jealous versus if they're already up here, it's just Oh yeah, they're just up here. That's awesome. I want to be like them. so I've had those situations where it just, it constantly aggravates me.And then I just have to see less of it in my feed because it's just, I just have, I just I'm not, I'm an issue, I just, you just jumped on extreme.
Mike:
[00:50:50] You're like, I'm just gonna get rid of it. Yeah, sorry. And then,
Kalen:
[00:50:54] and sometimes
Mike:
[00:50:55] you're preaching to the choir on this scale of I
Kalen:
[00:50:57] know, and you're right.I do the line. I do the extreme thing a [00:51:00] lot. And, it's part of my, it's part of my nature. It's one of the things that I need to work on. but yeah, the Nathan Barry thing is real funny because I had an email software. That I was at the same revenue level as him. You remember when he was at the 5,000?Yeah.
Mike:
[00:51:20] Yeah, it was like an experiment, He was trying to do like an app challenge or something
Kalen:
[00:51:24] like that, but in his post where he talks about how he was just. I think it was at like 5,000 a month. I don't know if you've read this post, but somebody challenged. I think it was Heaton Shaw, challenged him and said, Hey, you got to go all the way on this.And then he decided to go all the way on this. And then his revenue is, I think it's 2 million. I think it's a, what is it?
Mike:
[00:51:47] 2 million a month. It's 2 million MMR MRR.
Kalen:
[00:51:50] It's too late a month. So think about this man. We were both at 5,000 at the same time. And mine had some modest growth to that point. very [00:52:00] modest.but his is just, it's absurd. th like the way it's grown. and so that was one of those things where it was like, Oh, I thought we were on the same Le no, you were not, you're not on his level, dude. You're not. and, yeah, I like, I think, he's a, he just seems like an amazing guy.and,
Mike:
[00:52:18] I would say you're preaching to the choir on that. I can relate to you 1000000%. I never even actually had an app that was that successful. So you'd beat me on that. Caitlin, but it's that is a breeding grounds for resentment and robbing your life of what you're actually, doing.So it's like
Kalen:
[00:52:38] you,
Mike:
[00:52:39] you can then constantly like, Be mad at yourself that you didn't go all in on that. And then you can start to resent like that. And maybe you didn't in that timeframe, you had really good quality time with your kids. You did all these other things that you're not even thinking about.You're all, you're only thinking about how you didn't do that one thing. And then you can start to resent your family, be like how many. Man. I sacrificed my business on the alter of [00:53:00] my family. I'm one to say you don't, you shouldn't sacrifice your family on your altruist success, but maybe I've sacrificed my success on the alter, my family.And that sounds bad to say that because it's like, how could you say that? But it's you can yeah.
Kalen:
[00:53:11] feel that feel battle that.
Mike:
[00:53:13] And you can re you can resent your family and no one's ever going back now. I don't really resent my family, but you can, you actually do
Kalen:
[00:53:20] sometimes,
Mike:
[00:53:21] maybe that makes me a jerk dad.I don't know. But it's you can totally do that.
Kalen:
[00:53:25] So it's like everybody, but he's saying very few people say them, And articulate that,
Mike:
[00:53:31] you can, but you can, then it goes back to the extremes and I'll harp on this on broken, freaking record. But it's you can. You can go to the extreme of if you find out struggled with anxiety and he struggled with overwhelm and maybe depression or something as he was growing his business.Yup. Told you so yep. That idiot. Yeah. I asked why and build that business. Yeah. So he sucks. I bet his family sucks too. I bet you he's actually a crappy dad. you jump to the cynical, like negative side. [00:54:00] And it's I'm sure you haven't done any of this. but it's that's an extreme instead you can say, okay, I consciously made these decisions and maybe they weren't in line with what I wanted to do, but it's neither here nor there I have to concentrate on.Okay. What went well, what didn't go well and how am I going to adjust? And I think one thing I'm struggling with, and I would assume there's a lot of dads in this boat is this is something I'm like going through, like right now, just to be fully candid. It's like kind of this weird, like midlife crisis, like scenario, but it's not a midlife crisis.It's you're like, okay. I feel like both of us are probably the same level in terms of Engagement with our kids. Like we, we didn't sacrifice time with our kids to grow this career, this crazy career. So it's not like you're going through a midlife crisis where you put in all these hours and then also your kids are grown and you're like, Oh, I just want to like, buy a sports car or something, but it's I put in all this time and I didn't give that enough credit for all the things I did do.And maybe I sacrifice doing these other like businesses, [00:55:00] endeavors, or hobbies or whatever. Instead I poured into my kids and you, but you're not thinking about that. You're just seeing all the things you didn't do. And then you're realizing you're like, okay, My values changed in the process. I don't want to, I don't want to run a unicorn or I don't want to grow this massive business, but I feel like I didn't achieve the things I wanted to achieve.And I don't really know what my next steps are. Goal wise. Like I don't really know where I want to go, but I see these other people that I want to copy. And so you're struggling with it, a goal, what you're now, what your goals are. So you're so there's like this, When we talk about like doing the work and working on yourself and all this stuff, like why
Kalen:
[00:55:35] you,
Mike:
[00:55:37] you have to chase what you're interested in, but that only gets you so far.And if you actually have a goal in mind that aligns with that's going to help you achieve greatness really and achieve so much. If you're just constantly chasing what interests you're going to have like shiny object syndrome. but you can, I think at this stage of life with young kids, it's kinda You wake up and you're like, Oh shoot. Where did I want to be when I was this age? And I feel like I'm kinda behind the eight ball now [00:56:00] and what do I want to do? and that's hard. for me, it's you see you have enough knowledge and exposure to like the pros and cons that it takes on the work that it takes to achieve some things.So you're yeah, I see. I'm not naive enough to be like, I'm just gonna go out there and start this big business because you're not even, you don't see all the downfalls. You're like, yeah. I've seen some guys that have really F that up, like they really sacrifice their family on the alter that business.And I don't want to do that, but I want to have ambitious goals. It's And maybe this doesn't resonate with you, Caitlin. I don't know, but it's
Kalen:
[00:56:32] I don't know. I don't necessarily have that feeling of
Mike:
[00:56:40] what's. No,no,
Kalen:
[00:56:49] I know. I think that's real though, man. I. Sometimes, we all have different things. I can talk about things that you probably wouldn't struggle with [00:57:00] and all that out. no, man, I think that, I would have guessed that a lot of people do, feel that way. I definitely, like I said, I have the feeling of being jealous of some people that have more success than I do.Yeah. I just, I don't know, it maybe to be honest, that you've been more consistent about prioritizing your family. I had a period of time where I was working every night. I had my day job and I was working every night and we had a toddler and my wife hated me for a period of time. And was that what I advise somebody to do that, to have a day job and then have a side hustle for two hours every night with a wife and two kids.One of whom is an infant. No, that doesn't sound like a smart thing to do. And it may be that. Maybe I did have periods of sacrificing the family more than you. And then, so maybe that's part of why I don't have that sense. And it's [00:58:00] maybe if you were real consistent the whole time and you never. You never, over, did it on work.Maybe there could be some regrets there, something like that. But, yeah, I definitely feel jealousy. and I'm learning to be more honest with myself about it, like about when I feel that way, and I was hanging out with a buddy who got a new house recently and it's one of the most beautiful houses I've ever seen.And I was like, I was a little bit jealous, I had to be honest with myself and it's if I wanted to try to afford a place that was a little nicer could I will probably. But I also like living above, below my means, or what is it above or below? My means. I like having a simplicity there and things like that.Like in Austin, like if you want to live on the Lake here in Austin, A lot of people do that. And there's some really nice places on the Lake and we're not on the Lake, we're in another area. We really love the neighborhood that we're [00:59:00] in, but there's just a million things, That you can be jealous of, whether it's.Where somebody lives, what, how fit they are, what, how many kids they have, and then what, where are your kids, how your kids are doing and X, Y, and Z and money. And there's just, I think we all struggle with that. Some flavor of it. And everybody's a little bit unique in their struggle.I,
Mike:
[00:59:25] yeah,
Kalen:
[00:59:26] I feel bad that
Mike:
[00:59:28] I'm just razzing you, man. I don't care. Okay. I do care, but, I
Kalen:
[00:59:32] care, but I don't care. The, I
Mike:
[00:59:36] guess where I come at it with is
Kalen:
[00:59:38] what are the tactics
Mike:
[00:59:39] then for embracing the cause I think at the end of the day, you can take two extremes, one, you can justify your complacency by looking at the, all the negatives that resulted from someone's success.Or you can take the other extreme of like totally going gung ho and sacrificing your family and saying, I'm going to, [01:00:00] I'm going to go all in on this because I want to be a success and all this. So it's both are bad. but how do you balance that? Because I think it's easier to just be complacent and say justify why you weren't as successful as them when maybe you weren't working hard enough.and so it's there is something to be said for not living up to your full potential. And I think that's a little bit, what is. Rooted in what I'm going through is like how could I have done that more? Could I put in more effort and achieve that? And that's what you're saying with your whole, convert kit competitor was should I have done something different or was I not working hard enough or whatever, you're second guessing yourself.And how do you shift that to a mentality? Okay. I'm just going to try to get better every day and get better every day. Doesn't mean I'm going to put in one more hour every day, because I know. Yeah, that's going to come at the expense of something else, but it's like, how do I do things? Like, how do I, sleep better, work out more.So I feel better. So I'm more engaged with my kids or how do I, [01:01:00] simplify my life, live below my means. So I don't have more stuff that's like taking a mental toll or whatever. and how do you surround yourself with people that are like that? Because I think kinda what you're saying with curating your feed.That's really important because if you're surrounding yourself with successful people that are always posturing to display their success, that's not healthy. Like they're, I think it's like, how do you surround yourself with someone, with people that are, growth minded, but maybe are just like one step ahead of you or maybe they're one step behind you.So you're actually like helping them to, it's I think there's something to be said for that.
Kalen:
[01:01:31] Yeah. Yeah. I think, there's so much, there's so much that you said there, I, that I connect to, I think that, for me, there's definitely ways that I look back and I go, I could have worked harder.I could have been more focused. I do. to do a variety of different things and that can be a strength, could also be a weakness. Gary V I think about also does a lot of different things. He has, his holding company has wine brand. His agency has e-commerce agency has [01:02:00] sports agency, and yet he does.Find ways to make it work. and there's other people, Jeff Bezos, Hyperfocused on Amazon. and just single simple source though, right?
Mike:
[01:02:12] Like he's divorced.
Kalen:
[01:02:14] Yeah. Horrible person. Horrible for the record. Yeah. And yeah, like there's, that balance is something I've struggled with.I also, like going back a year or so. I was really not inspired at all by the work I was doing. And I was, I was not coding. I was not iterating on the product. I wasn't improving it. I was maintaining things and was doing fine financially, but, I was real disconnected and I've Have reconnected with that. And I have a nice, bit more balanced thing now where I'm feeling more inspired than I was in the past. And I'm seeing momentum moving in the right direction for awhile. My revenue was going down. My revenue went down by about half. and I was like, man, I need [01:03:00] to fix this.And I am feeling better about it, but I'm also doing stuff like this where we just talk for an hour and a half about being a dad and stuff like that, because is this directly related to my business? No, but it's something that. It's a real curiosity for me. It's something that I'll walk away from.This conversation fired up, and I, and it's something that I'm learning. Like I realized for me when I'm doing content, if I'm going to talk to somebody and do a podcast or whatever, non podcast, any kind of a call, if I'm going to spend time with somebody, I want to be learning something.And it could be learning. There could be a lot of different things that could potentially be learning, but if I'm like I've had podcasts in the past where it made sense for my audience, the topic made sense. It was a lot , but I had zero interest in it. I had zero curiosity. and that's one of the things I'm really trying to optimize for, to really be genuinely curious in everything I'm doing.[01:04:00]
Mike:
[01:04:00] Sorry. I had to text my wife cause, we're nearing the end of our time slot.
Kalen:
[01:04:03] Yeah, we are. We are transparency. I wanted to voice that we are nearing the end of the slide here and why don't I give you the final word and then we'll, give, you can let me, we will know where to find you online.
Mike:
[01:04:17] Awesome. So I have to define a word. You say you're doing the
Kalen:
[01:04:21] final word. no, you're no you're doing any, I'll do
Mike:
[01:04:24] the thought. I want it to say, I wanted to say, to do this again. I think we should do a regular collaboration. I think so to that podcast. So I think we only scratched the surface, man.There's an iceberg knowledge waiting. th the final word would be, I think. this, there was a very, a thing that happened when we were talking about surrounding yourself with people and talking through issues and learning in this podcast was like, really I'm fired up. And I think there's something to be said for constantly embracing that balance.Or the spectrum that is parenting the spectrum that is like business, because there's always going to be, tradeoffs [01:05:00] and it's like always assessing those, but then having a growth mindset. And I think that's something I'm learning every day. I'm not an expert at, but, it's a. I'll share one thing.It was funny because that's one thing with my podcast that I started as a passion project. So then I didn't really care about its success. I'm like, I'm not trying to monetize this isn't a side hustle. But that kind of made complacency, creep in, and it's like mediocrity kind of creep crept in and it's no, this is still really important to me.I still wanna invest my time into it and I need to make this the best I can be, and I don't want that to be an excuse for my laziness. Like the fact that it's just a passion project. And so I think that's really important, but yeah. you can find me at dot com. Number two sent dad.com.I'm at, Soodek on Twitter, a S at SUD YK. but yeah, just describe the podcast. I'm excited to do this again, Kaylyn, but thanks for that.
Kalen:
[01:05:54] Thanks for sharing. I have about six or seven, like subtopics now that I have in mind to, to talk about. [01:06:00] So I appreciate it. I had a blast and, we'll definitely talk again soon.So thanks everybody for tuning in and we'll see you back.