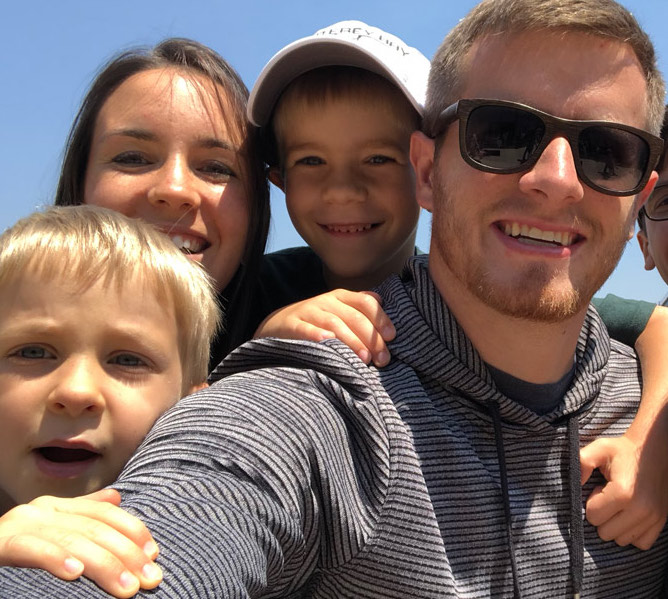 Nathan Barry
is the founder of
ConvertKit
, a super successful email marketing software company, but the road to success hasn't been an easy one. Nathan shares how his family's money struggles growing up instilled in him a sense of resourcefulness, and how he's passing on those lessons to his kids. Nathan also talks about how his support systems have gotten him through troubled times. Nathan's 2 Cents:
If you build into kids a desire to learn and a desire to create, that's really important.
Outline
1:35
What do you tell people who aren't in tech what it is you do for a living
– Two variations on the same answer: I say I own a software company, or I say I work in software. If there's going to be more of a conversation I'll say that I own a software company. 2:40
So you have 37 employees, but you started as a designer. Then a blogger, than author, freelancing, then started your company. So that story has probably changed as you talk to people. What do you tell your kids?
– I have two boys, seven and four. I wonder what it is they think that I do.
– I try to talk to them about the business, or if Hillary and I are talking about the business, I won't change what I'm saying in any way because the kids are there. I'll try to involve them. Which is interesting when you're talking about money and revenue. And my seven-year-old is starting to understand the numbers…and he's like so I do this chore and get paid two dollars, and you're at 100,000…I can see him starting to do some of that math.
– I think we just talk about owning a business but not any specifics.
– I have taught them a little bit of web design and html. Other than those interactions they don't really know how to use a computer.
– I work from home, so I'm around a lot. They're probably like why are you around all the time but won't spend time with us?
– It will be interesting when they get older to hear what impression they have. They'll have different ideas of the business over time. My youngest was six moths old when I started to focus on Convert Kit. For both of them they were super young when it was the grind-it-out time. They're going to grow up in the time period of the company being really successful. 7:10
So your kids will grow up with different perspectives of the business…can you talk about your background in that context? Maybe talk a bit about how you talk about your kid's perception of money.
– So for me growing up, there were six of us kids. We were all homeschooled. My dad ran a Christian book store supported by donations. There wasn't much money. Looking back, some of the years we lived on $25,000 a year. We had everything that we needed, but…I went out to eat the first year that I went to college than my entire life. Money was always stressful. People are like, money doesn't bring you happiness, but a lack of money brings a lot of frustration.
– My parents are very scrappy capable people…my dad built our house, my mom started a few businesses. They instilled a lot of that in us. As a kid I would go to my dad's shop and sell woodworking projects around the neighborhood.
– We also had some friends who had a pet sitting business and they gave that over to us.
– Somewhere in high school or early college I started learning about how do you earn a living. At some point I came across Jason Fried talking about how making money is a skill just like anything else. You don't sit down at a drum set and ask why am I not great at this? With making money everyone is like well my first business didn't work…but making money is a skill and you have to get better at it. That's been my thing. I feel like your story is not unique in some ways…resourcefulness is what your parents taught you.
– Yes, and carrying that through is important. I'll be remodeling part of my house and other people will tell me that I can pay someone to do that. I'm like, no, that's part of something I'm trying to teach. We can do that and save some money. Have you ever gotten in a debate about pricing your time?
– I often get into it about cleaning the house or lawn care. We do hire for some of it, but there's value in doing the work. But what am I going to do with my time? Sit in front of my computer and strategize??? We have better people than me at Convert Kit to do all that now! I didn't free up all of my time and build a successful company so that I can only work on the most optimal things. Like…I don't like lawn care so I'll hire that out. But other things. If I paint a room or do something else I can be like, I did that!
– The other difference that we're trying to instill is that we're just talking about money. Every number about my business is right there on the internet.
– The problem that I ran into was that I had no concept of a good salary. I knew hourly wages, but no concept of how to convert that into a salary. The Simple double the number, add three zeroes. So when I had the opportunity to go from freelancing and I was offered a full time position I had no idea how to negotiate a good salary. My girlfriend at the time's dad said here's how you do it. He gave me a little book on salary negotiation. I probably would have happily accepted a $40,000 a year salary, but thanks to him I got it up to $60,000 a year.
– So we talk about money…how much things cost. It does get interesting when the numbers are ridiculous. It brought in an extra 1.8 million for the business. I don't even know how to talk about that. And we talk about how our finances are different than the business finances, and we make sure to bring the kids in on that. 19:21
I had the same conversation with my wife about our business, and we were talking about the revenue goals, and my seven-year-old heard it and he was like…what? You have that much money? And I was like no we don't have that much money. You could see him calculating it in his head.
– The other thing is that the house we live in now is big, but there's nothing over the top. But we live on five acres. We have goats and chickens, so there are very defined chores. Trying to balance how we handle that… the feeding the goats is interesting because it's a chore, but it's not something they're doing to make money. It's like you just have to do these things.
– Along those lines…on our little farm we have a guest house. It was a studio and I remodeled it to turn it into a one bedroom. We rent that out on airbnb. On one hand, it's the most inefficient use of time. On the other hand, I can average 12-1600 a month. It's so easy. My wife doesn't like it, but I think it's great.
– One thing that I do with the boys is that there are a bunch of chores that are just their chores that they don't get paid for. But we clean the guest house together. They've increased what they're able to do, and then they get paid for that. They see that that's a family business that's more tangible for them. 24:00
So you've mentioned that you were home schooled. Do you home school your kids?
– We do a hybrid model right now. There's a private school here in our area that some friends have taught at for a long time. Now they do a two day a week school where it's home school three days a week and in class two days a week. It's a great use of time.
– My wife was homeschooled as well.
– This has been a good model for us because it's homeschool with all the structure. And we're big fans of the school. There's maybe 80-100 kids.
– You need to make sure they get time around other kids. My parents made sure we had other activities and time around other kids. You guys travel a lot with you kids?
– We haven't recently…right now we're enjoying spending time at home on the farm. We do a lot of projects.
– I want to instill a mindset of making things and doing the work and learning new skills. 28:10
What else has shaped your view for how you raise your kids?
– Sometimes you think, this is who I am but then you realize no, this is how I was raised.
– We wouldn't watch tv except for the Olympics. We would.
– We'd go to the library and get five books, and my mom would ask if it was enough to hold us over for two weeks.
– If you build in a desire to learn and create then that's really important.
– If I think about what drives me crazy about other people's kids…it's a lack of consistency that I find frustrating. Like if a parent says don't make me count to three but then there's no consequence. That's something I try to work on…calmly escalating consequences. Like go sit in the bathroom for one minute. Go run around the house. Do it again. As they get to five consequences for the day, that last one will be something bigger. The consequences escalate. 33:35
It sounds like that removes your emotion from it, so you can't just snap and over react. It sounds like you're good at creating intentional boredom. You see that in adults too…
– Yeah, they'll say Dad I'm bored…so then we'll talk about it but then they'll also understand that it's not my responsibility to entertain them. They have no shortage of Legos. It's important to ask ok what will you come up with. Sometimes they'll just disappear for a while, and that's great.
– I saw this thread on twitter about someone talking about homeschooling and how there need to be more businesses around homeschooling, and someone comments that homeschool makes someone anti-social, etc. And that was a naïve comment. We had people over with kids, and my seven-year-old is the oldest and eventually he joined the adult conversation.
– My parents never talked to me differently because I was a kid, and so I was ready when I got to college at 15.
– Another thing we do with our kids is have them pay attention while we're driving. We'd ask him how to get to school. Now the other day I was driving him to school distracted and almost took a wrong turn and he corrected me. 42:18
You had a blog post a while back about the process of growing convert kit. What advice do you have about balancing your time?
– After my second son was born, I had Convert Kit as a side project. I was selling books and courses. I had an amazing three months and decided to take some time off. We were going to do a remodel, and I decided I wanted to be the general contractor for the project. I thought it was going well, but one day I woke up with a rash on my leg…I had shingles. The doctor asked if I had an increased amount of stress in my life. I was like, yeah I've got two little kids, etc. etc.
– The doctor prescribed me anti virals and pain killers. I had so much to get done that I skipped the pain killers. By the end of the day I was in so much pain that I had to call them back and ask for it again.
– I basically went from being super driven to being in a bunch of pain and being on pain killers. I get a lot of self worth from what I accomplish, and if I don't accomplish anything I feel bad about myself. And it's hard to get anything done if you're depressed, so it's a vicious cycle to get going again. About six months later I decided to double down and focus on Convert Kit.
– Me and my wife talked about whether or not to focus on convert kit. She said go for it. I asked her a year later what made her so supportive in that moment. She said I was so depressed that she didn't know what else I would do. She hoped that if I was successful in Convert Kit that maybe I would do something. So it was working, and it was counseling that got me through that.
– Life is always going to be hard, though. That's just life. We just had a miscarriage. So a few times a month going to counseling, or getting together with friends, or making lists of things that make me happy. Were you adverse to counseling before that?
– I don't think so, it just felt like a problem had to get significant before I went through all the work of finding a counselor.
– It's the best product with the least amount of reviews! I know you're part of mastermind groups…is that something you talk about there?
– Yes that's something we talk about in my mastermind group. We're all collectively huge advocates for counseling and coaching. Those things make a big difference.
– You have to be brave to be able to bring it up, but most people in the group can relate.
– It's easy to share what you've been through, but not what you're going through right now when it's unresolved. Topics:
Transparency
Money
Resourcefulness
Homeschool
Depression
Counseling
Coaching
Mastermind Relevant links:
convertkit.com