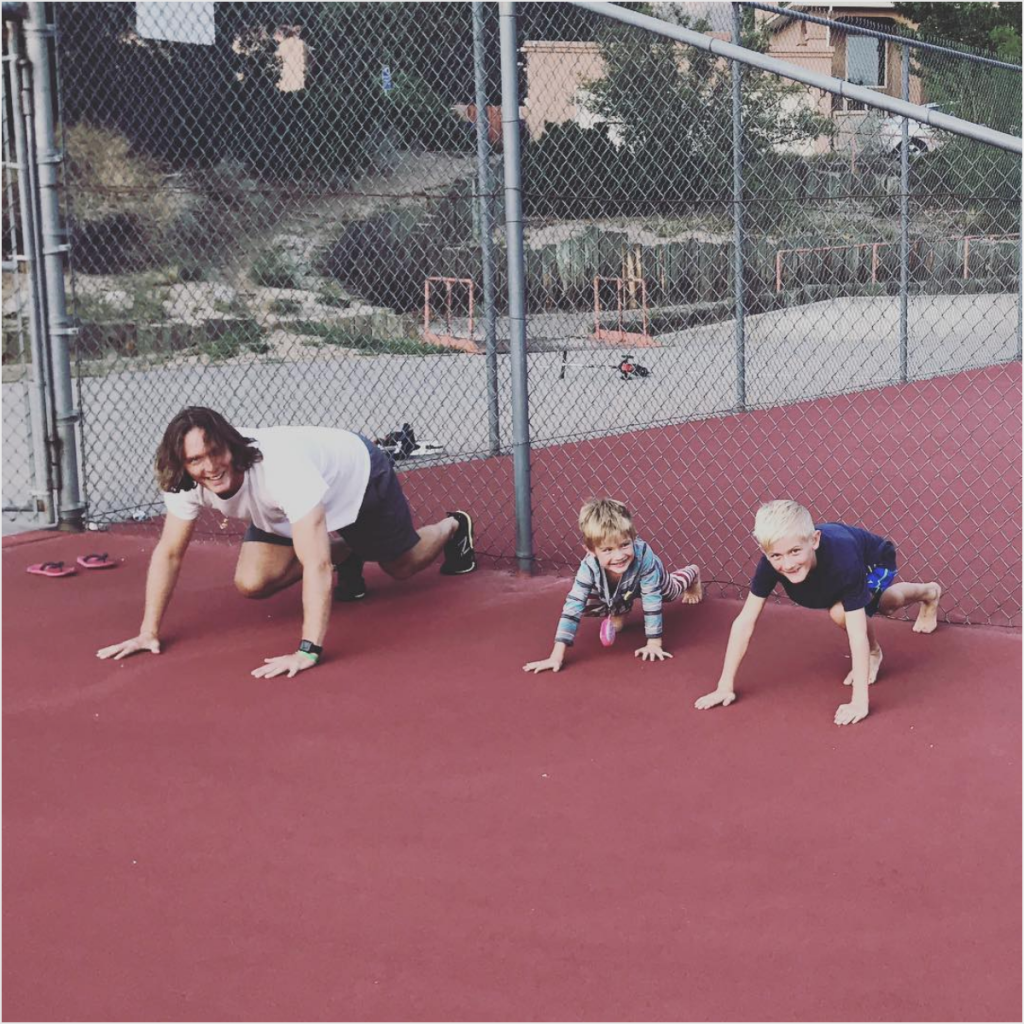 It's tough with families. But I think that if you don't, who's going to teach our kids? Who is going to set that example. And like the government's guidelines are, off from the science, a lot of emerging scientists saying, Hey, that's not right.-Soren Harrison
Is most of what you know about nutrition and fitness wrong? I chat with Soren Harrison about fitness and his journey from tech to his current mission to make dads fit again.
Where to find Soren:
Transcription (May contain typos…)
[00:00:00]
Soren:
[00:00:00] it's tough with families. But I think that if you do, who's going to teach our kids. If we don't right. who's going to set that example and no one setting that example. Yeah. And like the government's guidelines are, off from the science, a lot of emerging scientists saying, Hey, that's not right. and starting to get corrected, but if we don't teach them, they're going to learn other bad stuff and it's socially acceptable. This is what the government says you're supposed to do. And it was just normal. But not healthy,
Mike:
[00:00:51] Today we have Soren Harrison on the podcast who is none other than fit Daddy is what I'm going to, I guess I'll refer to you as fit daddy [00:01:00] 365. but Soren has got an interesting program which, helps dads get fit. and he's also done quite a few other things and notably being an MIT grad. So thanks Soren for being on the podcast.
Soren:
[00:01:12] Sure of course.
Mike:
[00:01:14] So tell us a little bit about yourself. How'd you get doing this fit daddy, 365 stuff, I love all the content you put out and I'd love to hear a little bit of the background.
Soren:
[00:01:22] Yeah, sure. happy to share it. Yeah. So my background is actually I'm in science and engineering. So I studied in grad school, nuclear fusion. And
Mike:
[00:01:30] so science and engineering is like totally underselling. it's like nuclear fusion. That's awesome.
Soren:
[00:01:38] yeah, I love it. And so my whole thing was like, I want to save the world. I love huge challenges and that's just typically how I've thought of it, about things. So yeah, when I was an undergrad, I started undergrad in San Diego. I surfed every day and I played my guitar and I got like straight C'S, like they just passing through. And then I was like, Oh, I got really excited about science and engineering. And it was like, boom, [00:02:00] the rest of college straight A's. And then I went to grad school. I started in Wisconsin. and then I was a visiting student at MIT and just loved the idea of solving a big problem and enjoying the challenge and how it got the entrepreneurial bug started a solar company. And, shortly thereafter, my son, or a few years after my son was born and I had been doing, I did a half iron man and I was training hard and I was eating a ton. And around the time my son was born, I stopped training. Yeah. And I kept eating and I gained 70 pounds of fat. It was over the course of a year. So it was like a really drastic run-up and one day my. I went to pick up my son Harper off the floor and my heart hurt, and I didn't have a heart attack. I didn't go to the hospital, but I was like, I'm having physical pain because I've gained so much weight. Like I have to stop this. And so even crazier, it took me another year [00:03:00] before I actually changed directions. And so I dropped 40 pounds of fat and added muscles. So balanced out a little bit more and. After that I went through a really difficult custody situation. Yeah. It was awful. and one of the things that kept and he's saying through that was exercising. it was just like, yeah, the lowest point in my life, but I was still training for another half Ironman and, just trying to keep my head on straight. And that experience really gave me a heart to serve Dad's. And really just made me feel like there's not dad groups. There's tons of moms stuff. And that's great. There's nothing wrong with that. That's awesome. And there's some dad's stuff out there, but not as much and nothing that's scalable really and nothing. And I'm not discounting any of the other dads of others. There's some great stuff out there. but I just felt like I want to serve dads and I want to be able to help all of us change trajectory of our kids' lives. I think [00:04:00] especially here in the U S. it's amazing how bad a shape we are in collectively. And so that's why I wanted to start with Daddy 365. And so the whole idea is, every, everything else out there is get jacks, get a six pack lift from the gym. I'm like, how about hanging out with your kids and be really healthy and balance all that and teach your kids. And there's nothing wrong with. if you have a six pack and you love it in the gym, and that's what you're all about. I'm all about that too. But we have to stop and think what's best for our kids. How do we change their lives and how do we, achieve what we need to health and fitness wise, without leaving our kids behind essentially.
Mike:
[00:04:40] Yeah, no, there's so much there that I want to dive in on. but, One thing I'd like to hear, just can you give me, what is the fit 365 tell people, what do you offer? how is it different? Like maybe we could start there and then back into some of that or stuff that you talked about.
Soren:
[00:04:54] sure. Sure. yeah, 50, 83, 65, sort of flagship offering is the daddy blueprint. And what we [00:05:00] do is we go through what I call the fit daddy fundamental. So these are the seven pillars of being a healthy fit dad. And. it's a sort of combination of one on one coaching with group coaching. And so you have a, we have a Facebook community, for all of the blueprint clients and basically go through each of those, fit daddy fundamentals, do a training, figure out how to implement them specifically for your life. I think that's the big thing is dads. you can get a meal plan, you can get a workout plan and you can get all that stuff for free, but actually figuring out, Hey, this is what works for me. Here's what I'm struggling with and here's how to actually make it right work in my life. that's really where I focus with the daddy 365, because I think it's just really tough. We have to make space often, a dad might be, sitting on the couch all the time and has an exercise than a year, and he's gained a lot of weight and so going and slamming it as hard as you can in the gym where you've won, that's a good way to get injured [00:06:00] and. Injuries kill your consistency and consistency kills your results or lack of consistency shows a result. So I really focus in on how do we implement little things, like wedge activities that increase your consistency and build momentum over time and get results that way.
Mike:
[00:06:16] Yeah. I had 110% agree with that. And I think that's what I've seen in my own physical fitness life. I, you have to fit it in and you have to do what works for you. And that's so different. Like you said, there's 1,000,001 workout things for like dudes that are like in their twenties and don't have any responsibilities other than work. It's yeah, that's great. But I'm not the audience that, you know, especially this podcast is for.
Soren:
[00:06:41] Yeah.
Mike:
[00:06:42] but one of the things you said that I've really resonated with and, Have been thinking a lot about is just the mental aspect of it, the mental health aspect of it, especially now probably, this podcast is being recorded in July of 2020. In midst of this COVID-19 craziness. It's like everyone's dealing with some level of [00:07:00] mental, anxiety. It's Physical fitness is so extremely important. Like I, my brother-in-law I'll text him and we'll challenge each other. Sometimes I'm like, Hey, if I ever text you saying like complaining about something, just tell me to go for a run, go tell me, before you even respond, say, have you done 20 pushups? it's kinda like just the sheer, like clearing of your head is so fundamental. But could you speak to that a little bit, especially in light of like your story and how you arrived at what you're doing? It sounds like that was the Genesis, right? Was getting your mind, Your body, To get your mind right. To some degree.
Soren:
[00:07:31] Yeah. Yeah. I think for me it was just, just keep my head above water. It was just such a amazingly tough situation. And at the time I wasn't doing it for that. It was just like, I was already had some goals around it. and so I was training and, but looking back, it was like, Oh yeah, that was like a critical part of burning off that stress as a critical part of just so you know, keeping sane, so to speak. And I think, yeah, we have this pharmacy, this biochemical pharmacy available to us 24 hours a day. And it [00:08:00] doesn't take much to activate. And I think that's very often missed. I think for, for professional dads or dads who are founding company and these types of things, your performance in your head is , so tied to your body, right? And if you don't have that energy, how are you going to build that business? If you don't have that energy after working a long day, how are you going to be patient with the kids? if you don't have that energy and you're not in investing in that part or your life, it's going to creep out into all the other parts of your life. And so I think that because, we take a lot of drugs. To mess with our serotonin and dopamine and this or that. And you get little pits on our phone, I'm as guilty as everyone on these things, we do a lot and we pay a lot of money to solve that. Some of these problems, when all it takes to your point, I like go for a run, do some pushups, I've got a little five minute workout. It's do that. And you'll be amazed at how quickly. You feel better. And so I think that's the key is [00:09:00] reminding yourself that your performance will be better. Work-wise family-wise, man wise, if you're taking care of your body and you're making those investments, and that's just in the moment, not to mention what happens down the road, if you don't make these investments, just the disease, that's this rampant right now.
Mike:
[00:09:19] Yeah, I agree. it's such a cascading effect, like you're saying, but, you said now you're doing this program with a number of dads and you have a Facebook group and stuff. Tell me a little bit about, some of the, What are the hurdles other than time, there's sheer time constraints. what are some other things that people that come to you that go through this program? what are they coming to you like being frustrated, what are the hurdles to actually doing what they want to do? They recognize maybe they need to get in shape. They recognize they have health issues. and they're like, Hey, I want to get shaped. What are some of those barriers and how do you help break some of those down in the training or in just the group coaching aspect?
Soren:
[00:09:55] I would say, the biggest issue that I've seen is [00:10:00] I can't. I can never be that light. It's almost, it's a belief thing. And they're like, okay. Yeah, I could get in better shape. I need to take care of this, but it's that barrier I can never way 220, like maybe 250, but not 220. And that holds you back. If you don't think you can get down that low. Of course, you're not going to get down that low. So I would say, and this is the number one lesson that was drilled into me from my dad from a very early age. You can right. You can get back to where you were before you can be in better shape than you were in your twenties. You can be stronger, you can be lean and you can be happy. And I think that's the first biggest thing, Is not to give up, Not just to say, it's my age or it's my genetics, or, any of the excuses that we all use at some point in time to basically. Give up. And so I'd say the first thing is you absolutely can, right? It depends on what you mean do, but you absolutely can. And keeping that in your [00:11:00] head, of course, you break through two 50 and gets 200. that's a huge thing. the other piece is nutrition. I think that's the number one that everyone, for the most part, we associate being healthy and fit with moving exercise, running gym weights, whatever. But, and we know about nutrition, but I think that very often people think that they're eating well, we're eating clean and they come to me and they're not right. And he's Hey, send me or send your food log. Let me see you. Take me, let me see those pictures. And our bodies are so sensitive to, random ingredients in some food and some, and. Really understanding what those inflammatory things are, what, how your body responds to different foods, I think is a huge part of making progress because you'll never outrun important nutrition ever. And you're, again, giving back to your energy that is dictated by your nutrition, [00:12:00] right? You can, and you can work out every day, kill it in the gym and you can kill all those results really quickly with one meal. And I think that. Really understanding how sensitive our bodies are. We put in them. And what we surround ourselves with is it is actually key. I have a, musician friend. Who's also a coach. He coaches musicians in particular. And you think about when you hear a song and there's one note off. You hear them like, Oh, that was really bad. And that, analogy with our bodies and what we put in them and what we surround ourselves with. They're super sensitive and, very quickly we go, Oh, that food is off. And sometimes we don't make the association between what we're eating and what we're feeling, even though it's there. So I think nutrition and belief are the two big ones.
Mike:
[00:12:51] Yeah, I could definitely see that. And I think the belief that what I was thinking about was like, you, there's a L there's a lot of valid reasons [00:13:00] for you not to work out, especially as a dad with young kids. You're just Hey, I'm busy and there's a sense of that's okay. You don't like that dad bought or whatever. It's there's this acceptance. And it's There, I guess it's valid from some degree, it's yeah, you're busy. Then a guy in their twenties, that can go to the gym all the time. But at the same time, that's like a horrible excuse. if nothing else, I think you've said this before, it's that's the very reason why you should be in good shape. Like you should be in good shape for your children, So you have the energy. So you're around a long time. So you don't have the health issues. so this thing about nutrition is, I definitely. Can relate to that. I, my nutrition goes into waves in terms of getting better, and then it gets bad and all this stuff and it's related to a bunch of different things, but how do you break down? How do you educate some of your clients that, in terms of You mentioned a food blog, I think that's awareness, I think is probably one thing. if I were to take a picture of everything I ate, I'd probably be like, Oh yeah, not the best, but yeah, exactly. So maybe that's a first step, [00:14:00] tell me a little bit about how, how that goes with some of your clients and some of the, ahas or, the light bulbs that go off when they start working with you specifically around nutrition.
Soren:
[00:14:09] Yeah. So I have a client right now who he was, he had lost a lot of weight, actually. He's done an amazing job. Something like he had lost like 70 pounds and, but he has hit this plateau and he still had a lot to lose and, he's exercising every day, right? Like an hour, a day in the gym, super consistent and committed and just feeling stuck. And so we started the food blog, Send me everything. And then I can look and see okay, inflammatory, spikes your blood sugar, these types of things. I ID all of that. And so then send him the meal plan. Yeah. And we do a training on it, Who go through, here's all, here's the bad stuff. Here's the good stuff. And not just in bad and good and bad and good, but like conceptually what's going on. And how do you need to think in order to adjust your, your lifestyle around nutrition? And so got a meal [00:15:00] plan, went through the training. Stuck. He stuck rigorously to the meal plan and he's like, all right, I'm finally like, I'm ready for a cheat day. I think it was like two weeks later or something or a cheat meal. I was like, yeah, go ahead, have a cheat meal. and which was essentially like a normal meal from before. And he was like, I feel awful. But he had his cheat meal. I was like, I get it. You know what I mean? It was like, yeah,
Mike:
[00:15:25] like clap your cheat or not loud. You're so proud, right?
Soren:
[00:15:27] Yeah. Yeah. It was like, yes. and that's the thing. You don't realize how, in some sense, how awful you feel consistently until you've cleaned it up and felt great. And then you go back to it and you're like, Oh, this is really bad for me. I don't even feel good. I'm not happy. Like usually you get whatever hit you get from your meals. And that's why you keep doing it. you realized, Oh, like maybe I'm addicted and I'm not happy. And so when you break that and you feel good, it makes it that much harder to go back to those old habits. They're still there. They're always going to be [00:16:00] there. I've got my nutritional habits that I struggled with, but feeling so good and getting it totally clean over a short period of time is enough to teach you that like you can feel amazing and all that other junk is just, yeah, you feel awful. So that's the biggest. Then that I've seen that really helps is get super rigid for a little bit, go back and then you're like, nah, never nevermind. So I think that,
Mike:
[00:16:24] yeah. It's like a perspective reset. Like you, you totally change your perspective on how what's a baseline, how you should feel. yeah, that's really interesting. so do you then advocate for a, Like a stark, one week, like transformational diet or something, or how as opposed to just eliminating things like, Hey, drink too much beer or something or Hey, don't eat breakfast and say she eats X thing for breakfast, do you approach it in a way where you're saying Hey, I want to change your perspective or is it different for everyone?
Soren:
[00:16:52] Yeah, I'd say it's different for everyone, but I do. Julie really focus in on what are those, what's [00:17:00] your Achilles heel in a particular there, right? If it's beer like reevaluate, if it's wine reevaluate, where else can you get the polyphenols? if it's sugar, if it's bread, depending on your system, I do go for keep it clean, right? Follow that meal plan. And then after that, we see where you land. And that tends to, you've, you're here. let's do it here. If you're here in terms of how clean you are, we'll get you way up here. And realistically you might end up in between, Hopefully much closer to the clean. but then yeah, you have the tools to evaluate. So that's how more, how I think about it. I don't want to make you a meal plan for the rest of your life. I want you to walk into the store or go to a restaurant and say, Look at the label. Nope. Yep. Know, this is great. This is horrible. Hey, how can I adjust this meal? I'm out for business. is there something that I can tweak or something I can leave off? I really want to equip dads to be able to make those types of decisions for themselves and also influence on the family side. I think that's a, that can be a real [00:18:00] struggle, right? if your kids don't want to eat off your meal plan and that can be an issue. And so I really just. I want dads to be completely equipped and have it more baked into their lifestyle and anything. And do that through some sort of just conceptual things like the blood sugar spiking type of stuff and inflammation. Instead of me.
Mike:
[00:18:23] Yeah. Yeah. That's I think, like you said, baking it in their lifestyles, like it's such a generational, change for the better that can occur because then you just start to eat better and then your kids naturally are going to eat what you eat. they may not like it for the short term, but. Kids are just, it's if you, all of a sudden don't have certain things in the house, it's they're just going to get to eat it, And that's a good thing.
Soren:
[00:18:44] At some point, they're going to eat that broccoli, right? Like that, not the only holdout so long. it is true. It is challenging with kids. I feel like we have achieved. and we're, we have a lot of work to do in our family. We're not [00:19:00] perfect, but we have, she's achieved some level of success in that. The children, honestly, believe that blueberries are perfectly fine dessert. They're actually like they don't spike your blood sugar as much, like they're frozen blueberries or like ice cream now it's yes. A little weird.
Mike:
[00:19:17] That is so yeah, fresh picked blueberries are like the ultimate. Then in my opinion,
Soren:
[00:19:23] yeah. So good. but yeah, it's tough with families. But I think that if you do, who's going to teach our kids. If we don't right. who's going to set that example and no one setting that example. Yeah. And like the government's guidelines are, off from the science, a lot of emerging scientists saying, Hey, that's not right. and starting to get corrected, but if we don't teach them, they're going to learn other bad stuff and it's socially acceptable. This is what the government says you're supposed to do. And it was just normal. But not healthy, so
Mike:
[00:19:55] absolutely. Soren, thanks so much for chatting, man. I think this is [00:20:00] such an important topic and I think I'm. Like you said, with dads and with kids, the mental aspect of it and just how you feel and how you approach life is so much better when you're eating. And you're exercising. It's and I think people know that intuitively, but they don't until they experience it, you don't really understand,
Soren:
[00:20:19] Yeah. Yeah. You got to get past that tipping point. And once you do, though, ah, yes.
Mike:
[00:20:24] Yeah. Exactly. So Soren working people find you, if they want to find out more about what you're doing.
Soren:
[00:20:29] Yeah. So you find on Instagram that daddy 365. on LinkedIn, soar and for on LinkedIn, those are probably the two primary places you should look for me. websites, got a lot of work, but fit that three 60 five.com. you can find a little more information there, but really most of the content, Instagram, LinkedIn, you can email me soaring daddy, three 60 five.com. happy to help. However I can. Yeah, I'm here to serve dad's right. And here to, I want to transform our world and [00:21:00] that's generation after generation. So come find me happy to help.
Mike:
[00:21:04] Awesome. And thank you so much, man. And we're going to link up all that stuff in the show notes. So people will be able to click over there. So thanks again, man. I appreciate it.
Soren:
[00:21:12] good. Thank you. I really enjoyed this and I love what you're doing with the podcast and everything. It's super cool. So good luck with number five coming.
Mike:
[00:21:19] Hey, thanks man.