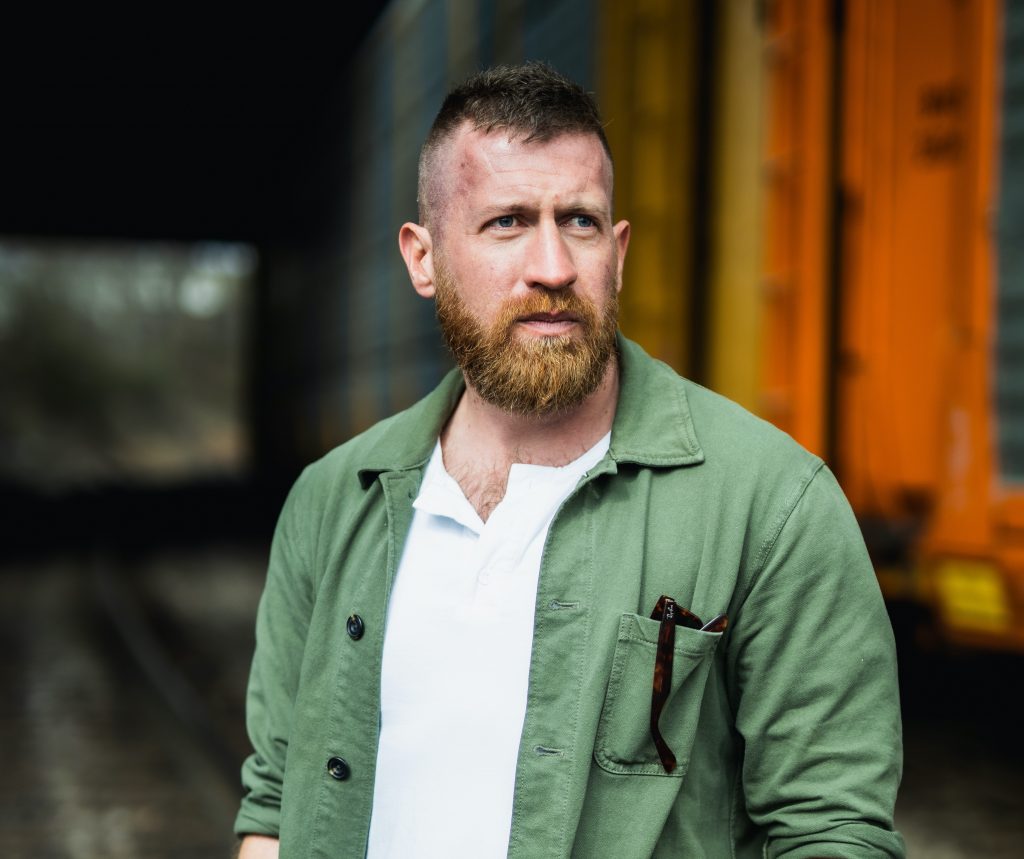 We have a moral obligation to dress well, because it is indicative and. Don't think when I say dress while that means you have to wear suits or you have to dress up formally, because that can be very different, but you need to dress intentionally because it's indicative of the fact that you are intentional about things in your life.-Tanner Guzy
Tanner joins me on the podcast to talk about why being a fashionable dad actually matters. I was skeptical at first, but after listening to Tanner shed light on the topic I get it. Being a fashionable dad not only helps you look and feel better but also helps your kids, family, and friends see that you are intentionally making an effort to work to become the better version of yourself.
Where to find Tanner:
Transcription (May contain typos…)
[00:00:00]
Tanner:
[00:00:00] I totally, 100% believe it takes is that fathers have an, we have a moral obligation to dress well, because it is indicative and. Don't think when I say dress while that means you have to wear suits or you have to dress up formally, because that can be very different, but you need to dress intentionally because it's indicative of the fact that you are intentional about things in your life. You don't just give into complacency or mediocrity. It sets the tone for your kids and for your family, for them to see that dad, somebody who is actually aspirational right. And my dad didn't give up all the cool things that were great about being a dad. As soon as he had me and being a dad is a dead end to all of my ambitions and all of my aspirations and what it's like, especially for young boys to grow up to be men, but it's a subtle way to continue to signal to yourself and to signal to your family that you haven't peaked that you're continuing to grow and develop. [00:01:00] today on the podcast, we have the pleasure of having Tanner Guzy, who runs a site called, masculine style. He also talks a lot about fatherhood. He's got quite a few in his brood as well. and he's an advocate for people having large families, so naturally a good fit for the 2 cent dad show. So Tanner, thanks for being on man.
Tanner:
[00:01:56] Thanks for having me on Mike. I'm excited to be here.
Mike:
[00:01:59] Yeah. so maybe [00:02:00] for people that haven't followed you, I've been following you for a little while now. and just to just give us the story and how you got to talking about, style and, maybe give us, the background of your family. I'd love to just hear your story before you dive in.
Tanner:
[00:02:13] Yeah, absolutely. So as far as the style stuff and where that all picked up from, I grew up in a family, especially with a unique, last name, like Guzy, where we were pretty sensitive to our reputation and the fact that our name. Meant something inside. Remember, even in elementary school, my mom being very vigilant about dressing us a certain way. And for me, the, it really took off more when I was in middle school. And part of that was because at that point they had shifted to, I was going to a private school where I had to wear. Gray slacks, white button up shirt, the rep tie and the Navy blazer, all that. But I was really into the X bike and punk rock music scene and all of this other like very rebellious anti-establishment green Liberty spikes and bondage pants and all this other like very like the antithesis of [00:03:00] what the private school, ethos and uniform and everything else was. And so there's this dissonance for me, that sucked because I hated the way that I had wear my uniform. And I remember getting in a lot of trouble. In fact, I got suspended. One week for having a bad attitude and wearing my uniform incorrectly and all this kind of stuff. And I remember my punk rock friends would tease me when they would see me walking home from school, wearing a uniform. And so is that this kind of early age that I was forced to identify with the fact that. People treat you differently and you perceive yourself very differently, depending on the clothes that you put on your body. It's something that has external and internal ramifications because my mood would be different depending on what I was doing wearing. And I'm sure most of the listeners can understand how that is, where you know, most guys, most dads, especially entrepreneurs, where we don't have a business uniform, we have to wear, we typically wear relatively comfortable stuff. And a lot of us convince herself. So I don't really care how I look, but it's okay, then go read your wife's closet and tell me that you don't feel differently. [00:04:00] Putting on her clothes, then you do what with what you wear every single day, right? You chuckle because you know exactly what I'm talking about. You're going to feel very different. People are going to treat you very differently. And so what I do and what this is morphed into over years of working in the suiting industry, writing a blog about it for the last 10 years, coaching guys is teaching men how to be able to. Not dress up. I very rarely do I have guys like, you need to go buy a suit or, you need to put on a button. Sure. But it's how to leverage their appearance so that there is more of that leveling up there. Internal congruence too. I am on the outside, matches who I am on the inside. And then also sending the kind of signals that they want to send to them audience so that they do communicate the kind of things that they want to, whether that's credibility and authority or that's warmth and openness or whatever it is that you want to be able to signal. Especially for a lot of entrepreneurs who are the kind of the face of their business. I teach you how to do that with your appearance, so that it maximizes the results you're getting in your business.
Mike:
[00:04:56] No, I think it's super fascinating. And. Don't take this [00:05:00] the wrong way, but pardon me at the surface levels? Like, why does that matter? Like really come on and I'm sure you get that all the time, but I totally resonate with where my mind went is a, the confidence thing. So one thing is like this whole shift to everyone working remote that CA people that can work remote. There's a huge mentality shift of if you actually get like you're going to a meeting and you dress that way before you get on the calls or whatever. It totally mental state shift, as opposed to being in your boxers or It's like professional sports players. are they really going to play as well? If they're in their regular gym attire compared to when they're in the uniform and kid, of course not because your mindset shifts, when you put on your game clothes. Yeah. And then what, some of the things that you do where you have an actual little quiz to understand what your natural style is. And I thought about that and how sometimes when you buy the suit, that's not either it doesn't fit, right. Or it's you're just buying what you think you should wear. You feel out of place. You naturally then are, it's like you're wearing a costume, And [00:06:00] it's a faking opposer and you know that in your head. Yeah. it's weird. so part of me is I been dismissing like the whole style thing, but part of me is I see there's a lot of baseline truth in kind of what you're talking about. so tell me about your family life and how that relates to everything, man. Yeah, absolutely. So I've been married for nine years and we've got four kids, three daughters and a son they're, let's see, eight, six just about to turn four and 18 months, so young and close together. Yeah. And we're very blessed that we're in a position where my idea. I do well enough with work that my wife gets to be home as a full time mom and we also homeschool. And so we all are around each other all the time and we love it. We love it quite a bit. And yeah, because I work from home, she sounded like we just get to spend a lot of time together. And man being a dad, being a husband and being a dad for me, it's rocket fuel. I was. I was just very kind of a complacent person. Like I was smart enough that I could get by with BS and some A's in school without ever really trying. And I was a smooth [00:07:00] talker and that's even how it was up through college. And, I did decent from a career perspective, but I never really got any ambition or any drive until I had the responsibility of leading a family and having people depend on me. And then my life just took off like crazy with having that kind of pressure. And I absolutely love it. That's awesome. Do you think that's common in guys? or do you think they cave under that pressure? Or talk to me a little bit about that? Cause I think that's an interesting comment that you made. I think sadly today more and more, we see men cave under that kind of pressure. And especially because a lot of men are afraid. Of even the politically correct incorrect notion that you should be leading your family, that it's not, you're the dopey dad, you're the field Dunphy or the Homer Simpson, or that you're just like the oldest child and my wife always knows best. And she's the one who can boss me around, but it's no, I'm the one who's can be and should be responsible for setting the tone and helping determine the direction of the family and everything else like that. That's a lot of pressure and it's terrifying for a lot of men, but if we don't rise [00:08:00] up to it, then we get crushed underneath it. Yeah. why do you think it's terrifying? what, like why is it. Obviously we have, there's an issue with masculinity in the world today. And I don't want to belabor that too much, but I would like to do is unpack it. w why do you think that's the case, but how does it relate to what you're doing with the whole, the style thing? Because I think there's an interesting overlay there of you said it, you said, I don't think you should be, you don't feel like that is even the right thing to do to lead your family well, or to be a strong leader. So in the same way, with the S with the style thing, it's You feel like you're not, you're there's been a cultural impetus put on you that it's you're not supposed to be there. This role that you're fulfilling or something. right. It's this kind of perpetual adolescents or we're so afraid. We're so afraid of terms like patriarchy or things like that we over-correct. And we throw the baby out with the bath water, because you can get cancelled for saying this kind of stuff or for embodying those ideas, or it's difficult to find. A wife who wants to be in a more traditional style. So there's all these cultural things [00:09:00] that work against us. And it is, it's the same thing with your appearance. And when you have all of that cultural inertia and all of that pressure and everything else saying, no, don't go this way. A lot of guys, aren't willing to rebel and take, the punk rock route, which is ironic that's the way that it is now that being a traditional family is now the punk rock route compared to the rest of the world. But it really is, but a lot of guys are, they're just not willing to do that. And I, and I. I'm frustrated. And to a very large extent, I can't blame them because if you didn't grow up being willing to bend the rules or break some of the rules or go against the grain or things like that, you were always just being a good old boy. It's really hard when you're an adult to break out of that and you keep hitting your head against the wall. It's like, why am I miserable? Why is my wife miserable? Why are my kids miserable? And it's because you keep falling the same prescription, as opposed to trying to do something different. yeah. It's interesting. You bring up like patriarchy being like a bad word and has thought of it's so interesting to see the pressure [00:10:00] that wives are under or moms are under two to work outside the home. And it's you just it's maybe I don't want to get off on a tangent there, but it's like that plays into the whole thing because then it's saying no, there's a, a neutralization of who's in. Who's the leader of the home and it's it's just a messed up what delegation of tasks or anything else like that, because there's no longer this. It's not because I don't bring home money because my wife can't just she doesn't cook dinner because I can't, but we both embrace what those rules are and we'd, we love to do things for each other and embrace those roles. Because we're happy to do it now because the other person is incapable. And that's what a lot of, I think a lot of them modern couples get caught up in is this idea of, I'm only supposed to do the things that she can't or that he can't. And then if not, then it's an equal division of later labor and we split it down the middle and it's no, that's not how delegation or optimization or anything else like that works. Like you just lean into what your natural tendencies are. And. You can get really good at this. And then it becomes really fun in your nature. Your relationship becomes very complimentary and your [00:11:00] kids get to see different aspects of what it's like to be an adult, as opposed to just two people trying to be the same person. And there's a whole lot to it. That's it. That's an interesting point. You bring up though with the kids observing that because, from a generational perspective, you see there is shifts in women, in the workplace and that sort of thing that is now playing out in how. In what, people observed in their parents and then it plays out in the next generation, which is interesting and unfortunate. but I'm curious, like the coming back to your style, consultation and all that. Tell me about some of the stories that some of like your clients and people that have worked with you, how that's changed their perception of themselves or their marriage, or Because I'd like the listeners to hear that. Cause it's like I was saying, when I started this out, I was like, you have this at one notion where you're Oh, that's just surface level. And they have this other idea where you're like, I can see the truth in that. So I wonder if you could speak to some of the results that your audience and your clients have had. Yeah, absolutely. it's pretty common. With most with the [00:12:00] majority of my clients, for me, at some point as we get toward the end of the process to get some sort of a text message versus like I had no idea. That this was going to impact my life in this many ways, because a lot of guys, they do, they just come into his life. I've got my fitness on points or my finances or my leg, my relationships. And there's now this frustration that I still look like the same dopey guy that I was 15, 20 years ago, or it's younger guys too. They make a lot of money and they're terrible with girls and they have no social skills and they're trying to improve their market value that way. Like I get this whole kind of cross section of different men, but the reality is. What it really does for them is it takes. it's almost like if you listen to somebody singing and they can't hit a note, they keep hitting it flat. And it's a consistent note that they keep hitting flat over and over. And then finally they practice it enough that they get to the point where they hit it perfectly. And then all of a sudden, the whole song and everything really just comes into tune. And it's like that where it's that little note. And you don't [00:13:00] think it's that big of a deal because it may even just be part of the harmony. But when you do it wrong, it screws everything up. And when you get it right, it brings everything into tune and creates this kind of synergy that amplifies how much money my guys made, how far they're able to progress in their careers, how much self-respect they have, like when they just catch their reflection in the mirror on their way out the door. And it's Oh, I actually looked like the best version of myself. Instead of looking like the guy who peaked in college and hasn't improved or changed since then, because I'm still that same guy or my wife is now. she's the one who was pursuing me and there's all these little things that come into it. And so it ties into all of it. And it's awesome that my guys get to experience all of that. It's interesting that you hit on like the whole confidence thing, even inside of like marriage or long term relationships, like how important that is and how the negative effects of beating the masculinity out of society. it's like it throws the whole order of things off, but no, that's super fascinating. And I, I think that, it's something that is not, [00:14:00] probably not paid attention to enough with, especially dads, as like with young kids, it's like kind of falls to the bottom of it, the, of the list. But I see it could be, potentially it's a small thing that cascades into other things, right? do you see that? Is it like, Hey F I don't care. What. because in fact, I, this is one of my more hyperbolic, but I totally, 100% believe it takes is that fathers have an, we have a moral obligation to dress well, because it is indicative and. Don't think when I say dress while that means you have to wear suits or you have to dress up formally, because that can be very different, but you need to dress intentionally because it's indicative of the fact that you are intentional about things in your life. You don't just give into complacency or mediocrity. It sets the tone for your kids and for your family, for them to see that dad somebody who is actually aspirational right. And my dad didn't give up all the cool things that were great about being a dad. As soon as he had me and being a dad is a dead end to all of my ambitions and all of my aspirations and [00:15:00] what it's like, especially for young boys to grow up to be men, but it's a subtle way to continue to signal to yourself and to signal to your family that you haven't peaked that you're continuing to grow and develop. You're continuing to put effort into things and that you are not allowing the burden of fatherhood. To create complacency in your approach, in anything else in your life. And instead you're turning it into, this is forcing me to improve and become even better in every single aspect of my life as well. Yeah, I think that's a really, important niche. Point that you made, it's it's not forcing you to complacency because that's the easy answer. It's and part of it, I feel out fall guilty to, victim of this, to some degree where it's you have your single buddies that don't, they're not married or they're married with no kids.
Tanner:
[00:15:45] they're just complaining about how they don't have any time. And then you're like, Oh, you don't even know you but. that there's truth in your response to say you have no idea, like your perspective is totally wrong, but at the same time, I think if you take that to its logical conclusion in yourself, you're it, yeah.
Mike:
[00:15:59] It validates your [00:16:00] complacency, right? You're like, I have all these reasons why it's a victim mentality. If you love your kids, it's not that you don't like your kids. Like you follow this victim mentality. It's I can't even imagine how that plays out in what our kids observe of us. And I think that's a really important.
Tanner:
[00:16:16] Yep, because it is, it becomes an excuse and it's a very subtle and subconscious excuse too. I can let off the gas. Yes, I can relax. I can breathe. And there's nothing wrong with doing that in the right place and the right time and doing it intentionally. But when you allow that relaxation to become chronic in any part of your life, whether that's. Your dietary habits or your exercise or your appearance, or making an effort to spend time with male friends and bonding with them or all these other things. The dad continued. We continue to let these go by the wayside. It just sets a terrible example for our children.
Mike:
[00:16:50] Yeah, I agree. so tell me a little bit about, how you got into this man. good. Take us back a little bit. I want to hear a little bit more about the origin story. You said you were in the industry [00:17:00] a little bit, tell me a little bit about, the origins of what you're doing and helping men.
Tanner:
[00:17:04] Okay. So I wanted to do, I've always been a talker and I like to think about things and hash out ideas. And so I got my degree in broadcast journalism. I wanted to be the young libertarian version of somebody like rush Limbaugh, Glenn Beck, 15 years ago. And I remember working for the local radio station, trying to make my way up the ladder and it wasn't working. And I had gotten sick of writing about politics or religion or all these other things important, but heavy topics. And so I thought, I need to keep my voice sharp. So let's start writing about something that's fun and enjoyable. And so that's when I started writing masculine style because I enjoy style. It was fun to start talking about ideas and stuff like that. And because I took a more. Philosophic approach and a less like here's how to tie a tie or here's what kind of shoes you should wear to be on trend this summer, but more of how, why did, why did they Jaguar warriors and the Aztec warriors care about dressing like these animals and how did that embody these [00:18:00] different strengths and how did that change their culture within this Aztec culture? As far as being different types of warriors, like that kind of stuff it took off with readers and it started to build. And I remember it was 2012. We were just about to have our first daughter. I was making 1295 an hour as a loan officer for local credit union. My wife was, we both knew that we wanted my wife to be able to be home full time. And that's like what? 28, $30,000 a year there was. No way that we are going to be able to make that work. And I had enough people start to reach out and ask me questions that I thought, okay, maybe I can turn this into a product or maybe I can start offering coaching. And so I sent something out and. I brought on my first client that week and I charged him way too little and I gave him way too much for what I charged him. And you learn those lessons. So along the way as you go, and then that be leveraged into meeting the guys who work for a local or who runs a local custom suit company. And I worked for them for [00:19:00] five years while simultaneously running the blog and got really good at understanding all of the science and the mechanics of fit and color and everything else like that. And then it was. About three and a half years ago that I decided to make the jump full time to doing this. And it's just continuing accelerate every year. So it's been awesome.
Mike:
[00:19:16] That's cool. That's really cool, man. How do you think this whole COVID thing is affecting the style world?
Tanner:
[00:19:24] I was pleasantly surprised that at least for me, March and April, everybody's holding their collective breath. But after that it's been relatively normal. And I think what we're starting to see is sadly, it's just more of this, what this bifurcation, where those two are. It's like the people who were using this as an opportunity to make more money and lose more weight and get in better shape are also the same guys for using as an opportunity to work with me and improve their style. Whereas the other people it's I've really caught up on my Netflix and I've put on an extra day 20 pounds. And, I don't remember the last time I saw my running [00:20:00] shoes or anything. Like those are the kinds of people that, and so we're just going to see. I think more people, more men start to dress well and dress more intentionally, and you're going to see more people start to get even more complacent and we're going to lose even more than middle,
Mike:
[00:20:12] Yeah. Oh man. That's totally true. That's totally what I observed as well. Yeah, exactly. So while we're on predictions, I'm curious like what in the land escape here, you know what, and maybe that's outstretched outside of masking style, but this whole COVID thing and all the stuff that's going on, I know that you definitely, I have a lot of commentary on that. And I'm just kinda curious, you guys said you homeschool, obviously there's craziness going on in education in a world and what are you gonna go back and all that stuff? what are some of the things that or, how the, how shifts that are going to happen here?
Tanner:
[00:20:44] Such a hard question. My wife and I were talking about this last night because. we were looking at, we were driving home from being up the Canyon. We saw some guys drive by in a side by side, like one of those razors side-by-sides, you'd go for off-roading. And I'm thinking, I can't [00:21:00] wait till we're old enough to do that. And then, like the kids are old enough and everything, we can do this. And it's given another five years, 10 years. And it's is that even going to be a possibility? Are we going to be in the middle of like complete balkanization we're a civil war or world war or whatever else. And it's so hard to predict because if you look at different. Histories of different societies and where we are on the scale. It's not looking very good, but at the same time, I think one of the things that a lot of guys get into real trouble with is this kind of doomsday. Now I'm going to become a complete prepper and I'm going to do it to the, at the expense of being able to thrive in a, the way that things currently are in B. What if we do go back to things being really good, we never come off of that precipice and I'm just waiting all my guns and all my everything else, because I know it's going to happen. And then I spend the next 20 years and again, I ruined my kids' lives. And set a terrible example for them because you want the Boogaloo to happen. You want everything. And so you're getting capable of thriving. And so one of the things that we're doing is yeah, we've [00:22:00] upped our food storage. We've got half a cow that's being delivered. We're stocking up on other stuff, but at the same time, I'm still investing into growth in the business and we're still trying to operate as close to normal as possible. And so I guess it's like the anti-fragile barbell theory from, to lab. Where you put 90% of your effort into the safer stuff and then 10% into kind of the risky stuff. And then either way you're going to be, you're going to be okay regardless of how it pans out, but man, what's really going to happen? I have no idea. It's we live in such an interesting time. Is it all going to calm down once the election is over? Is this all just part of creating that kind of. Dissonance so that the election becomes a bigger deal. Like how does do we just decide COVID goes away or does everybody have to get vaccinated? there's so many variables in all of this that I have no idea. I don't even know what the next six days is going to look like. Let alone the next six months or six years.
Mike:
[00:22:52] It's crazy. Yeah, it's wild, but I'm sick of saying it's crazy. I'm sick of even just having those words coming out of my mouth. Cause that's like, all we've [00:23:00] been saying for that was like three months, in unprecedented Yeah. It's like ridiculous. and I think even just your ability to say that you don't know, I think is telling because. it seems like there's this enormous pressure to have a strong opinion on every little thing. And you're constantly overwhelmed with information that it's impossible to take it all in and actually respond and still be invested in the things you need to be invested in your family and your business and all of that. And it's just, Which I think is unfortunate, but the power of fear is so prevalent in our society today. Tanner it's like it is fueled. There's just, it's all fueled by fear, and then guilt.
Tanner:
[00:23:42] Yeah. And I hate both of those cause neither one of those is a virtue. it's not a virtue to be fearful. And to allow that timidity to be able to drive you in there is well, Tanner you're being hypocritical because you're buying food storage and you are buying more guns and you're doing all the it's okay, Not because I'm living in fear, but because [00:24:00] that gives me a certain sense of confidence and competence so that I don't have to live in fear. And that's what I'm trying to do is increase my levels of both confidence and competence in as many different arenas as I can so that if we do turn around and we get back to normal and things are thriving, then fantastic. I can make that work. Or if we do go absolutely crazy. Then I'm pretty sure I can hold that out until I can learn the skills that I need to make that work. Or if we do some sort of twisted crazy road in between there, then I can pivot and adapt. And, it's applying that entrepreneurial mindset to just life in general, as opposed to how do I make more money with Facebook ads or whatever else?
Mike:
[00:24:34] Yeah, exactly. Oh man. Hey Tanner, thanks for chatting and bring in a lot of wisdom to my audience and I hope it was valuable for them and I know it was valuable for me, Thanks for having me on good, quick conversation. I love it. Yeah. I'll link up, your blog and your Twitter account and everything, in the show notes and people can find you and connect with you that way. So Perfect. Thanks man.